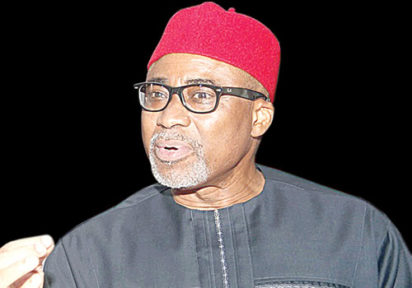 By Dennis Agbo
ENUGU- THE Igbo Renaissance Forum has condemned what it describe as barbaric manner a distinguished Senator of Nigeria, Senator Enyinnaya Abaribe was humiliated by the Department for State Service, DSS, when he was embarrassingly arrested in Abuja on Friday.
The group said the DSS Gestapo style arrest of Senator Abaribe, was indicative of sad reality that Nigeria was faced with a very real threat of suffocating the democratic process and the rude rape of the rule of law.
The group said the DSS was actively showing by its actions that there is an urgent reason to raise fundamental questions about the integrity of the organization.
Convener of the group, Nze Ugo-Akpe Onwuka in a strong worded statement in Enugu ask that Senator Abaribe be released, and that if there is need for him to be invited, that the DSS should follow the legal procedure.
The group expressed saddness that at a time when Nigeria was battling with the integrity of government to prove to the international community that there is no deliberate effort to subdue the opposition and individuals perceived to be critical of the government, the DSS embark on such caustic action.
Onwuka said "We call on the generality of Nigerians to rise and say no to this kind of strange and bizarre action, only witnessed under a dictatorship.
"We shall be following this case and would ensure that this is not allowed to slide We are not going to rest until Abaribe regains his freedom."