•  Says child did not look like a human being when she gave birth to her
By Boluwaji Obahopo, Lokoja 
Mrs Petra Akinti Onyegbule, Chief Press Secretary to Governor Yahaya Bello of Kogi State, is the Executive Director, Tiny Beating Heart Initiative, TBHI, a non-governmental organisation, NGO, that deals with issues surrounding premature babies. In this interview, Onyegbule shares the story that led her into floating the NGO.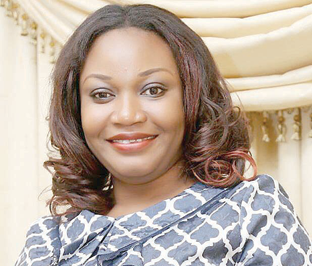 The story of TBHI, how did it start?
Tiny Beating Heart Initiative, TBHI, is an NGO. What we do basically is to create awareness around prematurity, the issues and the difficulties. We make people understand what it can cost them and steps to take to avert it. But in the event that these babies end up being born preemies (that is the name premature babies are called), we also provide support.
TBHI was formed to contribute to the efforts to reduce maternal mortality. Nigeria has one of the highest figures of babies that are born premature in the world. And you realise that there are educated people who do not know about it.
The experience can be explosive and exhaustive financially, physically and mentally. So what we do in TBHI is to give hope to parents. As they are there in the incubator fighting for their lives and caregivers are doing their best, we chant, 'Babies, you can do it'.
Globally, there are about 15 million premature babies born annually. India contributes about 3 million to the figure, China 1 million, while Nigeria contributes 773, 600. That is not a good figure. It means one in every three babies born in Nigeria is a preemie.
Personal experience
I had my baby prematurely at 25 weeks and I know what I passed through; so, I told myself no woman deserved to pass through that kind of experience. That period was the most traumatising time for my husband and I. But thank God the baby is alive. The experience looks so real to me even nine years after. The baby was so tiny; she did not look like a baby or a human being. I was wondering how come?
Every night when I slept and I received a message on my phone, it was like, 'Hope it is not the hospital sending a message that the baby has died'. After reading about how premature babies survive outside Nigeria, I could not find a story that was similar to mine. So I know we must talk about prematurity. It's nothing to be ashamed of, nothing to hide. If we talk about it, we learn from each other. So I made up my mind that whichever way the pendulum swung, I will tell my story. Meanwhile I hoped for a positive outcome and doctors and nurses at the National Hospital Abuja did their best to ensure that the baby stayed life. You know premature babies are so vulnerable. Even to breath, they can't do it on their own. So we exist to call attention that there are many people who deserve advocacy but no set of people deserves a voice like premature babies because, in their case, the mother is traumatized, the baby is helpless and vulnerable. Their existence depends on technology.
Non-challant attitude of caregivers 
There is this non-challant nature of caregivers too that I experienced and I believe it is not limited to me. The nurses were giving excuse of it being due to the nature of their job. It could be true but for someone like me in that situation it was hell. My water had broken. I was in pain and wondering what was happening and whether the child will make it or not, but when I got to the hospital, the feeling I got from the nurses was like, 'This is nothing new. It happens all the time'. And that was the first red flag that it was not normal and it shouldn't be taken as normal. No woman should be traumatized because she's bringing a child to the world. The hospital should be a place of solace. But I was left there for a while, no bed space. I sat down, nobody was talking to me – and that was a private hospital where we pay huge sums of money. And not much has changed in that aspect and it is one of our points of advocacy.
I spent 80 days at the hospital but by the sixth week I knew my baby will survive. The attitude of the consultants, doctors, nurses and everybody caring for the baby and other premature babies renewed my hope that my baby was in good hands. Though she was still weak and looking sickly, the doctors made it clear the baby was here to stay and there was no going back.
Complications
There are complications that can arise from prematurity. Some babies born prematurely end up with cerebral palsy; some end up with speech impediment; some with stunted growth. My daughter experienced slow growth but she later reached a catch-up stage. Till now she has sight problem. She was initially diagnosed with congenital bilateral esotopia (crossed eye picture). We were referred to the opthalmology department. But, later, the issue degenerated and she suffered partial retinal detachment in one eye and near total retinal detachment in the other eye. At this point, we had left Abuja for Lagos and she was close to four years. We did the first laser surgery in the left eye to attach the retinal back inside but the eyesight percentage was still higher. The second surgery was more complex where the surgeon used a rubber to hold the retinal back.
But for some other babies, it goes beyond that. Some suffer life-long complications. Though most go on to live a healthy life, the closer to term a baby is born the higher the chances of survival and the lesser the complications. A baby born at 20+ weeks faces more complications than a baby born at 30+ weeks.
Success story
Before we left hospital, we had some experience which opened my eyes to the fact that we needed a platform to continue. That experience gave birth to TBHI. One of our success stories as an NGO that readily comes to mind was that, because a baby was born on my birthday, someone called my attention online to the story because my friend always mentioned me in such situation. A parent gave birth to quadruplets prematurely and needed attention and we were able to galvanize support for the babies. It is a success story that I like to share because we went beyond paying the hospital bills to being there for the family.
Journeys of prematurity do not end in hospital because when the mother is out of hospital is when she is alone. In hospital, doctors, caregivers and other people are around to support. But at home, the parents are left alone. Parents do all the work alone. We follow up on the babies because we feel that if after the babies have been discharged and go home to poor hygiene or dirty environment, chances are there that they could be infected and catch any of the childhood diseases like pneumonia, whooping cough and dysentery, among others, and eventually die.
Our focus is not only on the baby in hospital. Our focus is that they don't die for any reason whatsoever and become addition to the death figure. So we follow up to their homes and continually get support for them up to the Lagos State government, the state House of Assembly where members pull resources together for the mother. We disengage only after we are sure they can thrive on their own.
Our concern is not only to cater for premature babies but to also give advocacy about how to prevent it. We have observed during our outreaches that men are more concerned about prematurity than women. In the beginning I was worried that this is a woman issue, so why should men be more concerned than women? But a doctor said to me that "you should be happy because a society where men are the ones taking the decision, it makes it better for men to be informed".
We have done advocacy in Lagos, Plateau, Bauchi and FCT. And since 2016 we have been in Kogi. We have done it in Kogi for the past two years but it is on low scale. We are scaling things up now because we need to get to the destination in good time where Nigeria's figure reduces drastically and where pregnant women receive good health care.
Challenges
There is the case of a woman who is hiding because of stigmatization. We have been visiting and offering her hope but her phone has been switched off because she does not want people to know she has a premature baby. Her reason goes beyond religious that we used to hear. She feels people will mock her. But there is no reason a woman should be mocked. It is not the fault of the woman or that of the baby. It is not because she's not woman enough. I experienced stigmatization too. My daughter experienced it. People will look at her and exclaim. At one year old, she looked like four months old and her face was old and her hair refused to grow. She looked funny and there were people who looked at her in a funny way. Some couldn't hold themselves and spoke out, "What kind of baby is this?". It was difficult for people to reconcile the look with her body. But now she looks better.
So some babies are hidden. But if such babies are brought out on time, doctors can actually detect what is wrong with them.
As an NGO, we have worked with two hospitals in Lagos. One is wonderful, the other was challenging. In Lagos State Teaching Hospital, from the management to the most junior staff, they were wonderful. We met Dr. Elizabeth Disu through a mutual friend and she was wonderful. Even the CMD, Prof. Oke, was lovely and supportive to our cause. Our first commemoration of World Prematurity Day was done at the hospital with a public lecture and a walk. The little thing we did at the hospital earned us a letter of appreciation from the management. And it has got us going.
But another hospital in Lagos which name I won't mention felt, 'oh! These people are just coming to use our name to get funds'. It was demoralizing. The thing we did at the hospital that year was not appreciated. The theme for the year was, 'Burden of Prematurity'. We went with items for babies and even for the hospital but what they made us go through was stressful.
All our activities for the past five years have been funded by 'Friends of TBHI' and individuals who believe in what we are doing.
But I won't forget that we once went to get some medical items at a shop and the owner gave us some items that were useful. The gesture was surprising. It has helped us to overlook some of the challenges.
New advocacy
We are launching our new advocacy called AFFORDABILITY OF CARE FOR PREMATURE BABIES. We are saying the statistics are not acceptable and must change. We want more babies to survive, we do not want premature babies to die and to show potential mothers a method like the Kangaroo Mother Care which the WHO recommended to increase bonding between mother and child and control the temperature of the babies because cold can easily kill them.
Also, a premature baby needs oxygen. The cost of oxygen is N3, 500 per canister that lasts for eight hours. And the present baby we are looking after was born at 27 weeks. So each day the baby uses an average of three cans; that's an average of N10, 500 per day. Imagine that for three weeks. And it is not just oxygen the baby needs…consumables, syringe, plaster among other things. The cost is prohibitive even for middle income earners. For low income earner, it is like passing a death sentence on the babies.
So, we are embarking on this new road to say we need practicable and sustainable solution. Maybe government can subsidise or government can mandate agencies to focus more on these vulnerable people. In TBHI we believe every beating heart matters however tiny it may be, even in a tiny body, because we don't know what he will become tomorrow.
Everybody should be an advocate for premature babies. We pray pregnancy be carried to term but in the case of preemies, let everybody do the little he can to help. All of us are working towards the same goal, no competition but collaborative efforts which will lead to a better Nigeria.
In case anybody wants to reach us on any case of premature baby or make donation of any kind, we can be reached on 08116620205 or  [email protected]