By Ben Efe
Renowned Nigerian athletics coach, Gabriel Opuana has called for the resignation of Athletics Federation of Nigeria president Ibrahim Gusau, otherwise athletics in Nigeria, will go into extinction.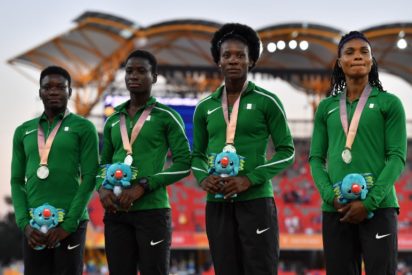 Opuana, a former hammer throw national record holder and a strong advocate of athletes' rights and welfare, was speaking against the background of the unending crisis at the federation after the June 2017 elections, which has left athletics in Nigeria in somewhat paralysed state.
"We have a real problem in the AFN. This is primarily because after the so-called elections, Gusau has never thought it fit to mend fences and bring the board together as one.
"The AFN is not a testing ground, the minutes you spend testing the ability of any person is enough to kill the morale of athletes who are eager to excel."
He submitted that Gusau has disappointed a lot of people who backed him to become AFN president. He is unreachable, inadvisable and virtually unknown to the athletes.
"A lot of athletes and ex athletes supported him, because they wanted something new, but we all have been disappointed. How can you be unable to bring our board together, a house divided can never stand, this is a basic life priniciple. I have nothing against Gusau, but truth must be told because it is our sports on the line. But it must move forward, something must have to give way.
"Let the right thing be done, I put aside our friendship and call on the right thing be done for the sake of athletics. Al Hassan Yakmut said in a book he wrote; "The only way you can get it right, is for you to
do the right thing."
"But Gusau brought politics into sports. Good hands who are suppose to run the federation have been sidelined. There can never be a compromise between politics and technical matters, when it comes to athletics, bring in technocrats,"
Opuana lamented that Nigeria is hosting the African Athletics Championships in August, yet nothing is being done to prepare the athletes for the meet. "Nigeria is hosting the AAC yet her athletes are not preparing. It is incomprehensible our athletes are not in camp, even if there is no camping, shouldn't there be competitions so that athletes will know what they are doing right or wrong?
"Imagine the last Golden League that was canceled a few days to competition, athletes have already moved to Delta and others were on their way only for them to hear the meet has been canceled. You don't do things like that; you are simply disrupting their training and it affects the athletes and coaches." He called on all stakeholders to rally round and save Nigerian athletes and athletics.
"Gusau is not a fit for athletics. One year after inauguration most athletes don't even know him.
"At the Commonwealth Games he never came to the Games Village, he never called a meeting with the athletes. He would sneak into the Games Village talk to few people and disappear.
"Gusau has shown the whole world he has nothing to offer to Nigerian athletics and he should honourably go."