A political pressure group, New Nigeria 2019 (NN19), yesterday extolled the virtue of MKO Abiola for paying the supreme price during the annulled June 12, 1993 presidential elections, as they paid a courtesy visit to Chief Gani Adams, the Aare Ona Kakanfo of Yoruba land.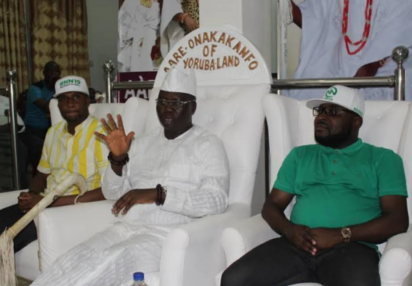 The Group lauded Chief Gani Adams who assumed office as Aare Ona Kakanfo of Youruba land, saying that Chief Gani Adams reign has started yielding good results for the Yoruba nation and indeed Nigeria following a recent pronouncement by President Muhammed Buhari by recognizing the contribution of Abiola, the acclaimed winner of June 12 1993 election, posthumously awarding him the highest honour in the land, GCFR,
Speaking, when the group met with Chief Adams at his residence in Lagos, Moses Siloko Siasia, Team Leader and Co-converner, at the residence of Gani Adams, said Chief Gani Adams has always being a committed advocate of good leadership starting as a youth leader, "as a youth group fighting for the inclusion of young Nigerians in the governance architecture of this country, we recognize your tremendous contribution towards the actualization and sustenance of the democracy we currently enjoy. We consider it a positive omen that after you took over from Chief MKO Abiola as the AareOna Kakanfo, after 19 years of waiting, the federal government has found the need to recognize Chief Abiola. We are calling on you to please join your voice in asking for generational shift in Nigeria's political space, because this is the only way to advance the gains of democracy"
On his part, the Aare Ona Kakanfo commended the Group for its advocacy, saying that he is fully in support of the group's objectives of youth inclusiveness in governance acknowledging the newly passed 'not too young to run bill' will help realize the dream of youth involvement in the political process. He urged the group to remain steadfast as nothing comes easy.
Founder and co-convener of NN19 Movement, Dr. Chima Anyaso while thanking the Aare, said that the group acknowledges his role in Nigeria, he pleaded with him to always be available to the group as they would consult with him from time to time. He said that the NN19 Movement is a platform were young people can achieve their political goals and aspirations.