By Dayo Adesulu
British Council once again confirms five Greensprings Students to have emerged "Top in Nigeria"for various subjects in the recently released Cambridge International General Certificate of Secondary Education, (IGCSE) results. 
The award programme which was launched last year by British Council, recognizes outstanding learners and acknowledges the excellent work of schools in preparing their students for the Cambridge examination.  
Following on from the success of last year, when six Greensprings students received the Outstanding Learner Awards, including Honour Olatunji who was recognized as "Top in the World" for Mathematics; the following Greensprings students will receive the Outstanding Learner Awards this year at the ceremony which will hold later this month:- Edgar Joseph Samuel Olusola, Top in Country for Art & Design; Giwa Ganiat Adebimpe, Top in Country for Drama; Ogechi Onyinyechi Onyenze, Top in Country for Accounting; Brian Nsien Ekong, Top in Country for Global Perspectives and Mustapha Abdul-Malik Morakinyo, Top in Country for Literature (English).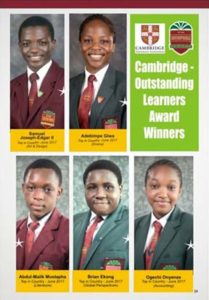 These students have shown that academic excellence can be achieved with hard work and dedication. Reacting to this development and expressing her joy, Ms. Helen Brocklesby, the School'sDirector of Education said: "Greensprings School is constantly looking for new ways to encourage its students to develop holistically. We are Nigeria's first and only Thinking School and it is wonderful to see our students yet again recognised for their academic achievements"
Speaking on the importance that education plays in the making the world a better place, Brocklesby noted that education is vital if we want a brighter future for our children and our societies. 
While commending the students' efforts, she explained that "excellent teaching skills on the part of the teachers are paramount to these achievements, as well as academic support" she added. "We need the best people to join the teaching profession as they impact the child's future to create amazing new outcomes". 
We are also delighted to announce that all five students joined us in Elementary school and two of them started from our Pre-school. Research shows the long term value and impact of being in a high quality, early learning environment and these students are testament to this.
You will recall that last year's Top in the World winner, Honour Olatunji made some comments on receiving the award, he said: "I love mathematics." "Finding out about my award did not just make me joyful, but also increased my love and passion for mathematics!
Master Olatunji also credited Greensprings school teachers stating that "he also enjoyed the privilege of highly competent and committed teachers."
"Honour Olatunji has now got a full scholarship to attend the prestigious Hong Kong University to study Information Technology and Robotics." 
Subscribe for latest Videos