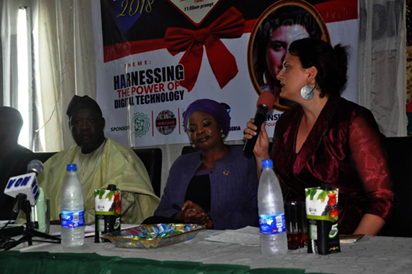 By Funmi Ajumobi
Jensine Larsen, the Founder of World Pulse, a global digital network which connects thousands of women from 190 countries, has advised Nigerian women to join over 60,000 other voices already building a global movement, by changing harmful cultural practices, launching businesses, and impacting 2.9 million lives through digital connection.
Jensine, at a one day event, organised by Tosin Turns Trash To Treasure in collaboration with Voice of Nigeria (VON) Senior Staff Association of Stationary Corporation and Government Owner Companies, held last week to welcome her to Nigeria at VON premises, said World Pulse was not about her voice, but about women voices and the voices of women leaders talking about the future and how they could use technology to make dreams come true.
Sighting Tosin Adebowale- Oladosu, a young woman behind Tosin Turns Trash To Treasure who is living her dream and has imparted thousands of women and children in Nigeria because she refused to let her dream die inside of her, she said every woman can leave her dream if they take that one step to sign in to World Pulse, which vision is to grow to over half a million voices impacting over a billion women in the world, using the power of technology. According to her, "It is a dream come true to be in Nigeria to listen to women voices from every part of the country and I believe Nigeria women are at the forefront of great change in the women's world and I believe Africa is the future of the world", she said.
Earlier in her speech, the guest of honour, Mrs Adejoke Orelope-Adefulire, a former Deputy Governor of Lagos State, represented by Mrs Mories Atoki, Manager, Sustainability and Climate with PricewaterhouseCoopers said, working hard is no longer important as working smart. According to her, the digital train is moving at great speed and women must catch up with it or be left stranded in life.   She advised all women to get on board the digital world which is a survival decision that must be made because the future has no place for the digitally illiterate. "It is either you are in or you are nowhere. The future belongs to those who make that decision now", she advised.
Continuing, Orelope said the topic for the event, Harnessing The Power of Digital Technology, was apt. Without IT application, there will be no modernisation as it now increase productivity, production, modern governance and global perspective. Digitalisation, networking and the application of intelligent technology which has been greatly developed are playing more important roles in promoting social and economic development and meeting the people ever the growing need for a better life.
Challenging the women in attendance, Orelope said, they must be ready to access, be willing and must be interested and be hungry to research. She is strongly of the opinion that, through ICT, women can improve the quality of learning and promote e-commerce.
"One of the major problems facing the world today is sustainable development but information and communication technology which includes traditional media as well as new and digital technology such as the computer and internet, has grown into powerful enabling tools and in the last decades, has been introduced to improving livelihoods of achieving the 2030 Sustainable Development Goals. Therefore, the issue of technology must be taken in sustaining perspective, as it can accelerate progress on national competitiveness, institutional advantage and competitive economy", she said.
Telling her stories to the women at the event, one of the World Pulse leaders in Nigeria, Mrs Busayo Obisakin said: "As a graduate with two degrees before 2009 and also a counseling psychologist from one of the foremost universities in Nigeria, I knew nothing about technology and I was completely illiterate but through one click, one finger and her voice, joined with other women's voices all over the world through World Pulse, my impact has reached over a million people and my child vision to be known in the world that I thought I had lost after my father died came to reality with my connection to World Pulse".
Celine Osukwu, another World Pulse leader at the event, physically challenged, said: "Vision and dream is important in life but disability is a discourager and even worse as a woman". She remembered how she was at the dead end of life when she was introduced to World Pulse and the women in the global movement have made her a celebrity, adding that she now earned dollars through speaking in conferences outside the country through her World Pulse connection, and advised women not to give up on their dream and vision because there were people somewhere who thought about them.
"World Pulse pushes you beyond your boundary and pushes you to dream even what you think is impossible", Celine stressed.