By Olasunkanmi Akoni
LAGOS—SENATOR Gbenga Ashafa has described the national awards of GCFR, in memory of the presumed winner of 1993 Presidential election, late Moshood Kashimawo Olawale, MKO, Abiola, Ambassador Babagana Kingibe and late Chief Gani Fawehinmi, as a deserved justice done.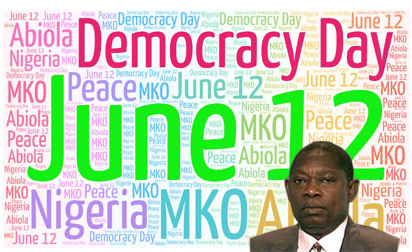 Ashafa in his reaction to the awards, commended President Buhari for the honour bestowed on the personalities.
His words: "I commend President Buhari for finally doing substantial justice to both the June 12, 1993 mandate and the memory of M.K.O Abiola GCFR after the long course of denial by successive administrations.
"It is at least quite comforting that this honour has come in the lifetime of Ambassador Baba Gana Kingibe GCON who shared the ticket and fate of Chief Abiola.
"In the same vein, the well deserved high-honour done to the memory of Chief Gani Fawehinmi SAN GCON, reflects President Buhari's sympathy towards the human rights struggle then and now.
"After the quarter of a century, we finally have a president who is courageous enough to place our democratic history in proper perspective by awarding the highest National Honour–the Grand Commander of the Federal Republic to the only elected president Nigeria never had and the forerunner/ sacrificial lamb for the democracy which we enjoy today. Now we can clearly say that we are on the march again."