——Moves to site August
By Johnbosco Agbakwuru
ABUJA—-THE Federal Government on Monday said that about 400 local and international companies have been engaged for the clean up exercise of oil pollution in Ogoni Land.
The Minister of State for Environment, Ibrahim Jibrin who disclosed this at the Nnimmo Bassey National Colloquium in Abuja also disclosed that contractors will be mobilised to site by August or September this year.
The Minister who described Nnimmo Bassey an environmentalist, activist and a member of the Board of Ogoni Clea-up who marked his 60th birthday as a patriotic Nigerian, said that the government has developed a framework and time line for the Ogoni clean up which would last till December 2019.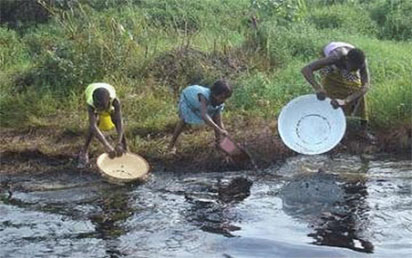 He lamented that oil pollution in Ogoni land has led to the destruction of mangrove and aquatic lives in the area, but promised that the present administration was determined to right the wrongs in the clean up exercise.
He said, "We have developed a framework and time frame that will take us to December 2019. A lot of broken promises have been made which made people to be suspicious even when we have assured them of our determination to clean the area.
"We are following up the framework religiously and we have engaged 400 companies, delineated 14 sites out of 26 and now doing the costing and procurement is just going on.
"We intend to move to site on August or September by the grace of God."
He said that the United Nations delegation arrived Nigeria last Friday and that 18 percent of their discussion was on Ogoni issue, stressing that the government was under severe pressure to perform and will not let the Niger Delta region down.
Bassey who is an architect by profession and a minister of God co-founded Environmental Rights Action, ERA, non governmental organization focused on environmental rights advocacy in 1993.