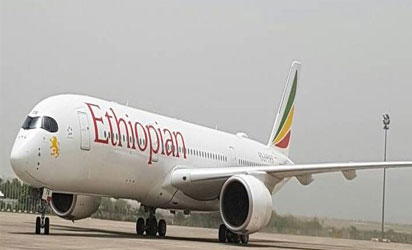 The landed Ethiopian A350 in Abuja International Airport
Ethiopia will sell off parts of its major state-owned industries including Ethiopian Airlines and the country's lone telecom company, the ruling party announced on Tuesday.

File Photo
While the government will continue to hold the largest stake in these companies, "the rest of the shares will be offered to domestic and foreign investors," the Ethiopian People's Revolutionary Democratic Front (EPRDF) said in a statement.
The policy is "to enable Ethiopia-born citizens living abroad who've long wished to work on the development of their country, and also to enable foreigners who have the knowledge and foreign currency, to play a positive role in our growth," the ruling party wrote on Facebook.
The move by newly inaugurated Prime Minister Abiy Ahmed comes amid concerns that foreign exchange shortages will harm the rapid growth of Ethiopia's economy, large parts of which are off-limits to outside investment.
The International Monetary Fund predicts Ethiopia will grow by 8.5 percent this year, a drop from 2017 when the economy expanded by 10.9 percent.
The ruling party statement added that railways, industrial parks and factories could be fully privatised.