By Bashir Bello
KATSINA – The Management of Dana Steel Limited has decried the epileptic power supply in Katsina state describing the situation as it major challenge and setback in it production in the state.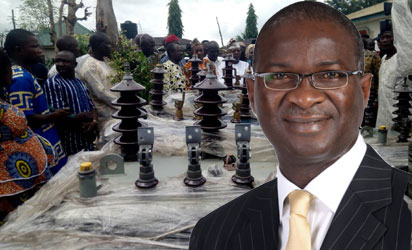 The Company's Director of Finance, Mr. Kanakas Nataraja expressed worry over the power outage at a get together organized by the company to host it stakeholders and supplier of scraps in the state.
Mr. Nataraja called on the government to urgently intervene and improve the power supply to boost it production, sales, provide job opportunities for youths in the state and generate revenue for the purse of the government.
According to him, "Our main problem is power supply. We want the government to do something to improve the power supply without any flunctuation being affected our production.
"If that improves, definitely everyone will be benefited. I hope all of us will grow together and will see better life in the days and years to come.
"If improved, it will increase the production of steel, increase sales by 24 hours in a day and there will be more job opportunities for additional people which will go a long way to help the society. We will contribute to the government or Ex-checker by way of taxes and duties and will be able to supply products at economical price which will be beneficial to that nation, suppliers, customers and also to the company.
"We also expect, we will improve on financial situation and will be able to meet the suppliers settlement much faster than what is going on now," Nataraja said.
Mr. Nataraja also on behalf of the company presented key of a brand new car, to it oldest scrap agent (12 years) in the state.
The General Manager, Finance and Commerce, Mr. Sanjeeb Dash assured that the gesture will be sustained while noting that it was to motivate it scrap suppliers to be committed and invest more in the business to enable them be eligible to getting the company's gift.
The car award recipient and a major scrap supplier, Alhaji Lawal Darma represented by Aminu Darma lauded the gesture which he said was for him to do more to support the company.
Earlier, the Human Resource Manager of the company, Abdulsalam Kabir said the company in the recent past and as part of its Corporate Social Responsibility, CSR to the host communities was the first to implement free school feeding for two primary schools of Alele and Kawo both in Batagarawa local government area, sunk boreholes in five different areas of the state to ease problem of water, donated ambulance and brought in Korean Doctors to help sick patients at the General hospital of the state to mention but a few.