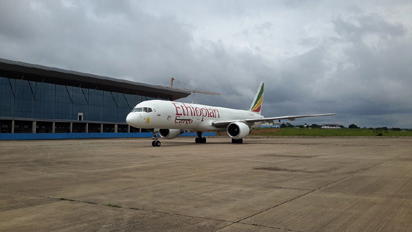 Akanu Ibiam International Airport, Enugu
By Dennis Agbo
ENUGU—AKANU Ibiam International Airport, Enugu has received an international aviation accessment group, APEX ACI World, to access and rate its safety and standard practices.
The group will also advise the airport management on how best to improve its international rating, using aviation best practices to stablise its operations.
The team comprising aviation experts in major Africa countries with headquarters in Casablanca, Morocco promotes aviation best practices across the globe.
Receiving the team in Enugu yesterday, the Akanu Ibiam   International Airport Manager, Mr. Orjiakor Mgbemena said he hoped to receive sincere intervention of the team on the airport's runway, its emergency strength and other standard practices that the airport maybe deficient in.
Leader of the APEX ACI World team, Mr. Brahim Lakhlifi said the team was in Enugu "to help the airport become compliant with international standards and provide guidance on how to achieve it."