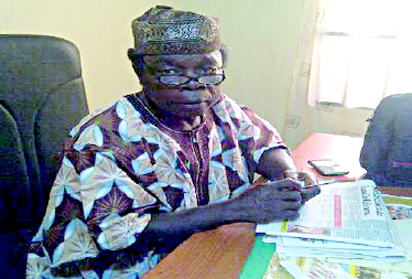 By Rotimi Ojomoyela
Former Chief Whip of the Ekiti State House of Assembly,  Hon.  Sunday Akinniyi, yesterday defected from the Peoples Democratic Party (PDP) and joined the All Progressives Congress (APC).
Akinniyi said he decided to defect   to APC due to Governor Ayodele Fayose's alleged high-handedness   and disrespect for top leaders of the party, thereby causing internal crisis and mass defection of influential members to the opposition.
This came barely a week a former Deputy Majority Leader of the Assembly, Hon. Ebenezer Alagbada took similar action.
Addressing journalists in Ado Ekiti at the campaign office of Dr. Kayode Fayemi, the candidate of the APC, Akinniyi, who is representing Ikere constituency II, said  he got the blessing of critical stakeholders in his constituency before taking the step. He said he decided to join the campaign of Dr Fayemi , because of the alleged shabby way Fayose had treated Olukere of Ikere, Oba Ganiyu Obasoyin in the  supremacy battle with the Ogoga of Ikere Ekiti, Oba Adejimi Adu.
Akinniyi accused Fayose of neglecting his constituents in major projects executed in Ikere Ekiti, while also alleging that the governor dribbled   the community by reneging on his promise to give Olukere a staff of office. "Governor Fayose said I should bring Olukere to him, which I did. He promised that he will ask the council of traditional rulers to go to Olukere's palace and examine the place and make recommendations on how best they can recognize his stool, which they did.
"The Obas turned in their report and Governor Fayose never acted on it. Rather than recognizing Olukere, they set him up for murder and put him in detention and that was why I decided not to support his governorship candidate, Prof Kolapo Olusola.
"All the projects he did in Ikere, including the dualisation were concentrated in constituency I. I used to raise issues  about this and that was why they removed me as the Chief Whip instead of the
allegation of docility and sleeping at plenary they leveled against me," he stated.
Akinniyi alleged that  he had severally been humiliated and threatened on the floor of the House by Fayose's agents just because he raised issues that bordered on the welfare of his people. He said this accounted for why he was labelled and portrayed as being disloyal and as enemy of the state government.
"Apart from all these, the PDP that sponsored me in 2015 had been in constant crises and now irreversibly divided and polarized to the extent that more than half of its members have moved out of the party in recent times to join APC.
"As a democrat, I cannot continue to remain in a party that had been polarized by internal crises because my continued stay will not allow me to effectively represent my people.