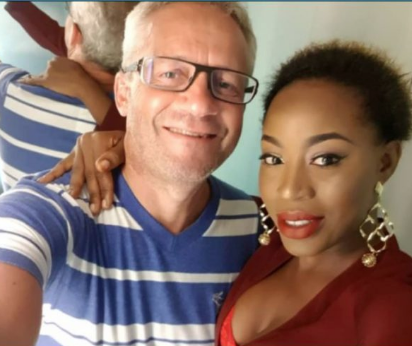 Peter Nielson and his Late wife
By Onozure Dania
Lagos – The Lagos State Government on Wednesday arraigned a Dutch National Peter Nielson, who allegedly murdered his wife and daughter before a Lagos High Court sitting in Igbosere.
Nielson is facing a two count charge of murder, preferred against him by the State.
The Lagos State Prosecutor Mr Adeniji Kazeem, told the Court that the defendant committed the offence on April 5, 2018.
Kazeem, who is the Attorney General and Commissioner for Justice, said that the defendant murdered his wife Zainab Nielson and his daughter Petra Nielson, at their resident in Banana Island Lagos.
He said that the incident occurred at about 3:45 am, at number 4, flat, 17, at Bella Vista Tower, Banana Island Ikoyi.
According to the Prosecutor the offence committed is Punishable Under Section 223, Cap C17, Vol 3, Criminal law of Lagos State 2015.
However the 53 year old defendant pleaded not guilty to the charge against him.
The AG, asked for a trial date inview of the defendant's plea.
The defendant's counsel Mr O. Shasore SAN, said he was not opposing the charge but that the defence would like to carry out their own test.
" We are interested in taking the blood sample of the defendant , I thought it will be better to inform this court that his blood sample would be taken for DNA, analyzing,". He said.
Consequently Justice Bola Okikiol-Ighile, asked the defendant if he would like to give his consent so that his blood sample can be taken for DNA test.
Nielson said " Yes I give my consent for my blood sample to be taken for DNA".
Shasore who was the former Attorney General and Commissioner for Justice Lagos State, also told the Court that the result of the autopsy report is out and that they are ready to proceed.
"We are interested in the autopsy report and the prosecution has assured us that we would get it in four weeks, we need to consult some of our experts for analysis of the test as we would need it during trial" He added.
The prosecutor further informed the Court that there is an interim autopsy report.
Kazeem said " The blood sample of the defendant will be collected by the State Government Forensic Lab."