*Allegation not true, we'll study claim—DHQ
*Provide facts, Police challenge NDLEA
*We don't tolerate drug abuse – Customs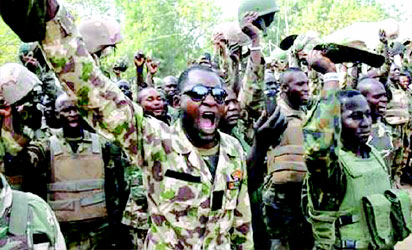 By Emma Ujah, Abuja Bureau Chief, Gabriel Ewepu & Joseph Erunke
ABUJA— National Drug Law Enforcement Agency, NDLEA, weekend, raised concerns over rising problem of drug abuse in military and para-military agencies in the country.
Addressing newsmen in Abuja, Chairman of NDLEA, Muhammad Abdallah, at a world press conference organised by the agency to mark United Nations 2018 International Day Against Drugs and Illicit Trafficking, with the theme, ''Listen First – Listening to children and youth is the first step to help them grow healthy and safe,"  said the agency was already compiling data on the rate of drug abuse among security personnel.
Abdallah, who was represented by his Chief of Staff,  Femi Oloruntoba, however, said the agency would continue to fight against drug traffickers, irrespective of their affiliation.
He said: "The military and para-military surely are involved in drug abuse and they know it. I can confirm to you that they have approached us for that statistics of their officers and men arrested for drugs. We are compiling it for them. I believe because they want to address it as an institution."
He also disclosed that the government has remained committed to ensuring the ban on codeine, especially with the increased trafficking and abuse of tramadol, codeine, cocaine and others.
According to him, in November 2017, the agency intercepted 82 tonnes of tramadol, which the legitimate milligram is 20-100 and that anything above this is not normal.
He also noted that violence in the country had its roots on abuse of drugs, which also have rendered many youths and women unproductive.
He said the agency had synergised with civil society organisations, including tricycle drivers, road transport workers, women societies and schools for aggressive campaign to sensitise and prevent drug abuse and trafficking by keying into the global plan in the war against drugs.
He further stated that the essence of the day was to sensitise member states to intensify efforts to fight drug trafficking and abuse.
The NDLEA boss said Nigerians should not indulge in trafficking and drug abuse, stressing that concerted efforts should be made to stem the tide of drug abuse.
On synergy with Customs
On synergising with Nigerian Customs Service, he acknowledged that there had been no real cooperation between the agency and Customs.
He said: "I can confirm to you that on the issue of synergy with the Nigerian Customs Service, they were part of the meeting that was called by the National Security Adviser, NSA, I know there are issues with Customs.
"Again, because the law actually gives Customs and NDLEA the power to be at the same point; all Customs points, areas.
''So they cannot limit us, while Customs is working fast to generate revenue for government, it wittingly allows illegal substances, including illegal drugs into the country. We are working it out at the senior levels. We are all working together in the best interest of Nigeria."
Allegation not true, we'll study claim—DHQ
Reacting to the claim yesterday, Defence Headquarters said it will study it, claiming not to have heard of the allegation by the country's drugs law enforcement agency.
Acting Director of Defence Information, Brigadier General John Agim, who was asked to react to the NDLEA's claim to that effect, asked that he be given time to find out for subsequent approach response to the issue.
Agim, who spoke to Vanguard from London, said he was yet to hear about the NDLEA's claim even as he promised that he would quickly find out if the drug enforcement body actually said it and respond immediately to it.
"I have not received such a thing from the NDLEA. I am not even in the country,I'm in London now. Give me some time to find out if actually they said that, "he said.
Pressed further for a brief reaction, the Defence spokesman said:" I can't speak on that for now until I see the context of what they said. But if at all they said that, I don't think   it's correct but I want to look at what they said first before I react appropriately.''
Provide facts, Police challenge NDLEA
Reacting also to the allegation, Nigeria Police Force, which claimed it was not among the agencies being accused by the NDLEA as it wasn't a paramilitary organisation, dismissed the agency's claim, saying it was not only baseless and mischievous but intended to ruin the image of security agencies of government.
Force Public Relations Officer, acting Deputy Commissioner of Police, DCP, Jimoh Moshood, who responded for the police, on the telephone, challenged NDLEA to mention names of agencies involved in drug abuse or shut up.
He said there was no single case of drug abuse in the Nigeria Police Force, asking the drugs law enforcement agency to prove him wrong.
He said:  "From the position of law, the Nigeria Police Force is not a paramilitary organization, police is police. And across the world, there is no country that is without the police force.
"So if you are reacting to what somebody has said, people will ask you 'did he mention your name.' So, what I'm saying is that the police is not a paramilitary organization.
"But in respect to   drugs abuse, there is no rampant case of drugs abuse in the Nigeria Police Force. In fact, there's none at all.
"The NDLEA should work on record. They should come out with proof of any police officer that has been indicted of drug use."
 We don't tolerate drug abuse – Customs
Similarly, the Nigeria Customs Service, NCS, said it had zero tolerance on drug abuse among its officers and men.
Spokesman of the organisation, Mr. Joseph Attah, said:  "As far as the CNS is concerned, we do not tolerate drug abuse among our officers.
"Recall that sometime ago, some officers were sent to the NDLEA and those who tested positive were summarily dismissed.
"We don't tolerate drug abuse at all. This is because our officers bear arms. We cannot afford to have officers who bear arms to work under the influence of drugs."