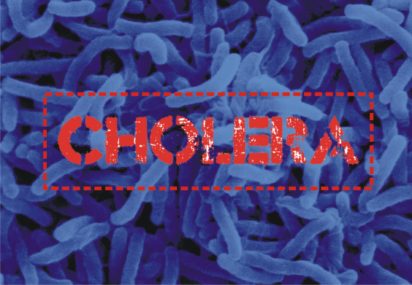 Cholera
The Shehu of Borno, Umar Ibn Garbai, on Friday agreed to lead UNICEF's cholera prevention campaign in the state to prevent an outbreak of the endemic and seasonal disease.
Speaking during an advocacy visit by Geoffrey Ijumba, UNICEF Chief Field Officer in Borno on Friday, the Shehu said that the emirate would collaborate with the fund towards eradicating this menace.
The United Nations has allocated US$2 million to support the response to a deadly cholera outbreak in Yobe State, North-east Nigeria, which is a neighbouring state to Borno.
Since the beginning of the outbreak, which was officially declared in four local government areas of Yobe in March, a total of 404 cases and 15 deaths have been reported, representing a 3.7 per cent case fatality rate.
"The issues you raised regarding healthcare, nutrition, sanitation and hygiene, including education are very critical in a land facing humanitarian challenges.
"I would personally work hard to record improvement to alleviate the suffering of our vulnerable people.
"This is a task we must achieve in favour of children and for the future.
"Traditional leaders in Borno would work hard to ensure that our people are aware of the dangers of cholera and how to prevent it," he said.
The royal father commended UNICEF for providing humanitarian and developmental assistance to children.
"We always appreciate the good work UNICEF is doing over several years in Nigeria and the northeast in particular, especially during the conflict which posses a huge challenge to people particularly children and women," he added.
The Shehu regretted that children had lost a good part of their lives out of school due to the insurgency.
Earlier, Ijumba, commended the emirate for prioritising its support for women and children in all areas of UNICEF's activities in the state.
Ijumba said that his team was in the Shehu's palace to seek for support in the campaign against Cholera outbreak, promote safe hygiene and school enrolment.
"The specific issues that I would like to bring to your attention is that we are going into the rainy season.
And right now there has been instances of Cholera outbreak in some part of Borno.
"We would like you, with the help of other traditional rulers, to sensitise the good people of the state to promote cleanliness, hygiene and good sanitation.
"On our part, we will deploy a team of community mobilisers to conduct house to house sensitisation in every community to promote hygiene in preparation for the raining season.
"We want to also make sure that water for drinking in Borno is properly stored and safe for drinking," he said.
He expressed his disappointment over the refusal of the people in the state to accept "water chlorination".
"We hope this time around, you will take a very strong message to them on the importance of water chlorination.
"We will work together with the government, RUWASA and other partners to make sure that this is done," Ijumba said.
Water chlorination is the process of adding chlorine or hypochlorite to water.
The method is used to kill certain bacteria and other microbes in tap water as chlorine is highly toxic. (NAN)