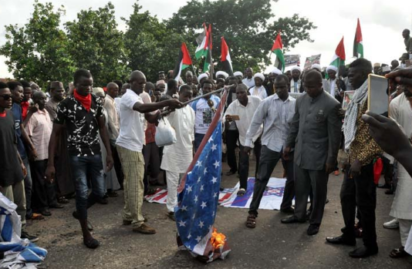 Members of Islamic Movement of Nigeria and followers of Elzakzaky burning American flag and Israeli flag during protest in support of # Free Palestine and #Free Zakzaky in Abuja shortly after Friday Prayer at National Mosque Abuja. Photo by Gbemiga Olamikan.
Bwari (Abuja)—The Federal Capital Territory Administration, FCTA, said, yesterday, the 6 am to 6 pm curfew imposed in Bwari town in the territory, would remain until further notice.
According to a statement by Special Assistant to the Minister on Media, Mr Abubakar Sani, the earlier 8 p.m. to 6 a.m. curfew imposed in the town on Saturday ended yesterday,
The FCTA noted that it was deeply concerned over attempts by "some miscreants to reincarnate the December 25th, 2017 crisis in Bwari Area Council.
"Reports reaching the administration indicate that some of the miscreants took advantage of the on-going Eid-el-Fitr celebrations to launch attacks on innocent residents of the town on Saturday June 16.
"Fortunately, the security agencies immediately swung into action and have since brought the situation under control. For the avoidance of doubt, the FCT Administration shall not condone any attempts by any group of persons to precipitate the breakdown of law and order in Bwari Area Council or indeed any part of the Federal Territory.
"As you are already aware, following the December 25 crisis, a 6pm to 6am curfew was imposed on Bwari but was relaxed to 10pm to 6am after a satisfactory assessment of the situation and return to normalcy.
"However, this renewed attempt to disturb the peace of the town, calls for stringent measures in order to protect lives and property as well as forestall the breakdown of law and order."
The administration, however, said security agencies had been directed to ensure that residents comply fully with curfew while urging all residents of the FCT to continue to be law abiding and go about their lawful activities.
Chairman, Bwari Area Council, Mr Musa Dikko, reviewed the curfew after the town was thrown into confusion during the Eid-el-fitir celebration.
An eye witness, Mr John Awoyi, said the incident allegedly happened when the Sarkin Bwari, Alhaji Awwal Ijakoro, as part of activities to mark the Eid-il-Fitr  celebration, while riding his horse was interrupted by some irate youths.
"He was stopped by some youths when he tried to take the route that leads to the Esu Bwari's palace and that was where the confrontations began. But everything is calm now as the security agents are in place and ensuring a peaceful atmosphere, " Awoyi said.