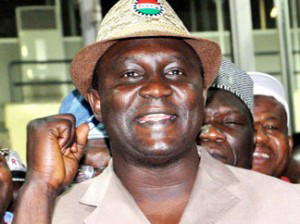 Wabba
By Victoria Ojeme & Ahiaba Maranatha
ABUJA- President of the Nigeria Labor Congress (NLC), Com. Dr. Ayuba Wabba Mni explained that president of the Federal Republic of Nigeria, President Muhammadu Buhari has come out clearly to say that he will not for any reason privatize the nation's healthcare sector.
NLC president disclosed this during, the Nurses week/scientific workshop of the FCT council which held at the International Conference Centre yesterday, 26th of June 2018.
Speaking during the workshop, Dr. Ayuba said, Nurses are key and backbone to medical healthcare services and therefore any plan and policy that will not accommodate the contribution and the central role of Nurses will be a process that will not actually lead us to any success.
He said, "At a very high level meeting where security agencies and top government official were present, it was quoted that the leadership of the Federal Ministry of Health admitted to the fact that the President and commander-in-chief, President Muhammadu Buhari said he is not going to privatize the healthcare sector".
NLC president disclosed that NANNM stands by President Buhari's decision. Thereby, informing the Federal Minister of health, Prof. Isaac Folorunsho Adewole that the agenda to use the workers struggle to advice the issue of privatizing healthcare will be resisted
"The hierarchy in the Federal ministry of health wants to ensure that there is non-stability so that they can use it as an avenue to privatize the healthcare sector" he said
Dr Ayuba revealed that the National Association of Nigeria Nurses and Midwives (NANNM) stopped the privatization of the Trauma centre in Gwagwalada Teaching Hospital. He said, "They are not happy because we stopped the privatization of the Trauma centre in Gwagwalada Teaching Hospital. We know those that want to buy it. We stopped it collectively. Now they are out again and they have been exposed."
"I want to once again call on our government to do everything possible not to jeopardize the process of ongoing dispute resolution mechanism because we are respecters of the rule of law and therefore we should not be taken for granted. Dr. Ayuba further said that NANNM suspended its strike action because of their belief in the rule of law
The president of the Nigeria Labor Congress, pointed out that "the price for leadership is to be very vigilant because in Nigeria we have majority that are actually thinking aright and we have few that for selfish reasons want to think only about themselves."
He added that, the majority will continue to unite towards issues that will make Nigeria a better society.
Ayuba said, "if health is a team, there is no way two salaries can be increased in one cadre and all other cadres will be at jeopardy without taking their interest at heart." He added that the centrality of peace in any workplace is justice and fairness.
Speaking also at the workshop, the NANNM chairman FCT council, Comrade Deborah .J. Yusufu urge nurses to carry out their duties diligently with high sense of responsibility adding that nursing is a call unto service and nurses are accountable to God
The chairman, NANNM urges relevant authorities to commence the payment of April and May salaries to JOHESU members across some facilities. "I urge the management to address the issue of proper placement of our members' i.e. entry point of CONHESS 8, internship and advancement as provided in the Nurses' Scheme of Service. She added
Wabba