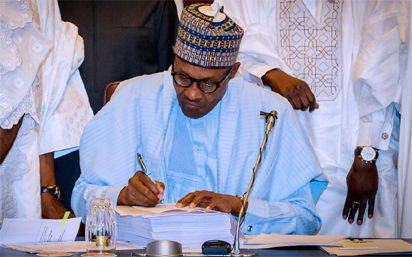 By Henry Umoru
ABUJA—SOUTH East Senate Caucus, yesterday picked holes in the 2018 budget that was  on Wednesday  signed into law by President Muhammadu Buhari, describing as totally unacceptable, the reported cut in the 2018 budget allocation for the Enugu Airport Terminal.
Taking a swipe at the action of the Presidency, chairman, South East Senate Caucus, Senator Enyinnaya Abaribe  confirmed the annoyance of South East Senators who were shocked to hear that an allocation of N2 billion sustained by the two Aviation committees of the Senate and House of Representatives was slashed to a mere N500 million.
Meanwhile, the caucus has concluded arrangements to summon an emergency meeting of South East lawmakers to holistically look at what point the cut was effected.
It will be recalled that President Muhammadu Buhari who reluctantly signed the 2018 budget  on Wednesday  said that the National Assembly made cuts amounting to N347 billion in the allocation to 4,700 projects submitted to it for consideration and introduced 6,403 projects of their own amounting to N578 billion.
According to him, many of the project cuts were critical and may be difficult, if not impossible, to implement with the reduced allocation.
Speaking further, Senator Abaribe who noted that budget documents are verifiable, said    that "we are committed and determined to find out who made the cut."
Senator Abaribe who noted that they actually lobbied for the Enugu Airport Terminal allocation to be increased to N3.5 billion until the Ministry of Aviation told them that what they had was an envelope which could not be increased beyond the N2 billion allocation.
Ekweremadu blames c'ttees
Meanwhile, in a statement yesterday by his Special Adviser, Media, Uche Anichukwu, the Deputy Senate President, Ike Ekweremadu said that his findings showed that the cut took place at the level of committees and that hopefully the affected committees would make the necessary explanations very soon.
He said, "The committees of the National Assembly are usually given a free hand to do their jobs, but they are structured in a way that every geopolitical zone is represented. That way, they can call the attention of the principal officer from their zone when any challenges arise. The Chairman of the House Committee on Works called my attention to the challenges in appropriations, award, and funding of major road projects and I made my modest interventions to resolve the issues.
"In this case, the South East occupies the positions of Vice Chairman of the House and Senate Committees on Appropriation and also chairs the House Committee on Aviation. Nobody informed me of any challenges concerning budgetary provisions for the Akanu Ibiam Airport.
"Instructively, the National Assembly approved exactly the same N2 billion for the same terminal building in the 2017 Appropriation Act. So, I believe the relevant committees of the National Assembly committees are on top of the situation."