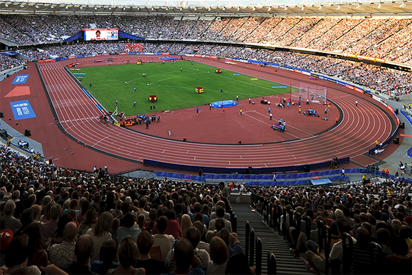 By Ben Efe
What could have been a bloody weekend at the Athletics Federation of Nigeria Golden League, was averted as armed thugs sent to assault a gathering of athletes beat a retreat at the Delta State Polytechnic at Ozoro.
About five armed youths had stormed the venue in a white SUV to disrupt a meeting scheduled by the athletes to discuss pertinent athletics issues concerning their welfare. They also wanted to detain the leaders of the gathering.
However, the gang on hearing the litany of woes by the athletes, most especially as it also concerned  home-boy Ogho-Oghene Ewero, they decided to abandon their mission and instead showed their solidarity with the athletes. Worried by the development, Delta State Governor, Ifeanyi Okowa later sent some security details to make sure no athlete was harmed.
"They meant to do us harm but wisdom prevailed," Charles Hima.
"The boys were armed and they came and told us we couldn't hold the meet and they asked me to follow them to their leader.
"I strongly suspected that it was the technical director of the AFN, Sunday Adeleye that unleashed them on us. If that is the way he wants to go, then we are totally for his removal as a director."
Adeyele vehemently denied hiring thugs to harm his own athletes. He submitted that it was a group of people that was trying to instigate the athletes against the board of the AFN.
"We are doing quite a lot of things for athletics yet some people want to disrupt our progress. It is just a few disgruntled individuals that are trying to cause division among us."
However, the meet went on smoothly afterward, with athletes trying hard under rainy and windy conditions to return good performances that will boost their readiness for the Africa Championships billed for August in Asaba.