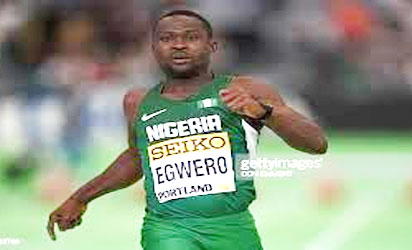 Ogho-Oghene Egwero
By Ben Efe
Nigeria's top sprinter, Ogho-Oghene Egwero is stepping up his preparations for the African Athletics Championships billed for August 1-5 in Asaba, Delta State.
The athlete has shifted base to Germany to train and compete in some meets in Europe in order to put himself in top shape for the Championships, in which he is seeking to clinch his first tittle on home soil. Olusoji Fasuba was the last Nigerian to win the tittle at the 2008 Championships in Ethiopia.
"Yes I'm preparing for the CAA. I have great hopes that things can happen. "However, this depends on whether the country needs me. Because I haven't heard anything concerning the championships preparations from anyone at the AFN," Egwero stated.
The Delta-born athlete in May ran a season best of 10.19 in Leverkusen. One athlete that was in that meet was Ivorian Aurthe Gue Cisse who ran 9.94 seconds to broke the Ivorian national record. He erased Ben Youssef Meïté's 9.96 seconds. Meite won the 2010 and 2016 title compatriot Hua Wilfried Koffi won the 2014 title. These men and others from South Africa are the competitors Egwero will be facing for the 100m title in Asaba 2018.