By Ben Efe
Athletics Federation of Nigeria board member, Rosa Collins has urged the federation, sports ministry and concerned Nigerians to assist Nigerian athletes in their preparations for the 2018 African Championships billed for August in Asaba, Delta State.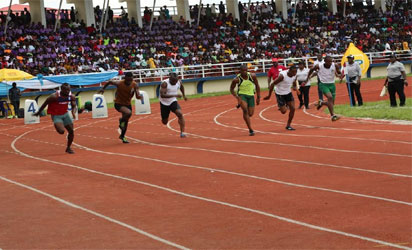 With roughly six weeks left to the championships, Nigerian athletes are yet to begin their build except for a few elite athletes who are training on their own. The AFN has yet to set up camping date for the home-based athletes or have a team out look even as other rival countries, South Africa, Kenya and Cote d' Ivoire have put their teams on standby mood.
"It is quite abnormal that we are hosting a championships of this magnitude and we are not preparing.
"Other countries have gone far and I cannot imagine athletes from rival countries most especially Cote d' Ivoire will come here to beat us in our traditional events," said Collins, a former African triple jump champion and record holder.
She attributed the slow progress at the federation to the disaffection, which followed the 2017 federations elections. Collins who vied for the president in that election urged all present athletes, most especially elite class, to speak out not minding the consequences.
"For how long shall we continue in this mess. All athletes, most importantly the elite athletes, must have a say in how they are governed. The federation is there because of the athletes and not because of politicians."
"These athletes should remember they have a short sports life span and they should make the best of it and have something to fall back on when it is all over."