By Omeiza Ajayi
ABUJA – The fate of the National Organizing Secretary of the All Progressives Congress APC, Sen. Osita Izunaso was Saturday hanging in the balance as the Gov. Rochas Okorocha led appeal committee said about 19 aspirants seeking various positions in the June 23 national convention of the party had been disqualified by the Gov. Aminu Masari led screening panel, while 18 persons have petitioned his own committee.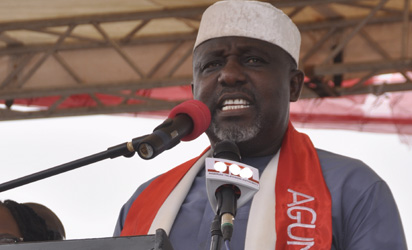 Although Mr Izunaso had earlier been scaled the screening by the Masari committee, Mr Okorocha said the appellate committee can reverse the decision of the screening committee.
"Yes, if you don't make the appeal screening, then you are disqualified because there is no other appeal after this", he told journalists Saturday in Abuja.
This was as he said there is a general petition as to whether members of the National Working Committee NWC of the party can be judges in their own cases "having supervised the congresses and now coming to present themselves for election. We are also looking at that".
According to him, the committee "has petitions against all other positions except that of the National Chairman and National Secretary".
He said if his committee upholds the position of the screening committee on the 19 persons, "it means they have been disqualified from contesting the election. If there is anybody who has been screened and there is a petition against him, we have power to uphold his qualification or disqualify him based on the merits of the petition.
"As you can see, we have started receiving petitions and appeals. Right now, we have seven aspirants here. We have resolved to give everyone a fair hearing so that justice, equity and fairness will prevail so that we prevent crisis in the party. We are carefully selected Nigerians from all walks of life from different states that constitute membership of this committee. We have two days to do this job and we will be submitting our report by Monday barring any other reason. We are here to work all day and all night and take our decision. The screening appeal is the final appeal in this case. After this appeal committee, the next appeal will be after election which will come after the convention. We are not unmindful of the fact that the convention committee will need time to start printing of ballot papers for the convention and so, we will ensure that we complete this job on time.
"So far, we have about 18 petitions before us and we have 19 persons that did not make it at the screening level. These are the things we are looking to see the merit or otherwise of their claims. We are going to use the screening committee report as a major guide to what we are doing. As soon as we are through with this, we are going to make it known to the public those who have succeeded at the appeals committee level."