By Anayo Okoli
UMUAHIA—A group, South East APC Advocacy Group, SEAG, has called on all the delegates for the party's forthcoming national convention to support the former governor of Edo State, Comrade Adams Oshiomhole to emerge the party's next national chairman.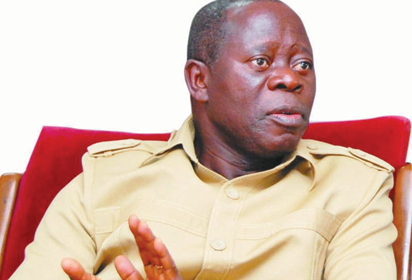 According to the group, "there is no alternative or better choice than Comrade Adams Oshiomole"
A statement signed by the coordinator of the group, Mr. Ben C.   Ezinma said: "At this present state of APC, the only man needed to address the critical issues is Comrade Adams Oshiomhole. During the trying moment of a people, God always sends his servants (prophets) on rescue mission to save his people. When the children of Israel were in a fix, God sent Moses.
"During the critical and economic dismay caused by PDP in their 16 years of leadership, God sent President Buhari.
"Today, Comrade Adams Oshiomole has been sent to rescue APC from the numerous challenges the party is facing; though not peculiar to APC.
"Therefore, the South East (Ndi Igbo) delegates to the national convention should have no option than to cast their votes for Adams Oshiomhole should there be a contest.
"Similarly, other aspirants who may wish to contest  the seat with Adams Oshiomhole should as a mark of honour to a popular opinion step down for him."