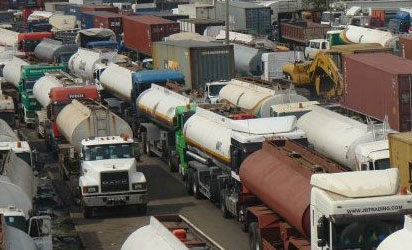 By Godfrey Bivbere
The chaotic traffic situation at the seaports in Lagos has resulted in about 1100 percent hike in the cost of transportation of imported goods from the ports in Apapa to surrounding towns in Lagos.
Vanguard's finding revealed that transportation of a 20 feet container from Apapa to Ikeja which used to be N25,000 has now risen to about N300,000.
Confirming the above, President/CEO of NICSOL Worldwide Investment Limited, Mr. Nicodemus Odolo, said the bad roads have affected the movement of goods to and from the port as well as the cost of movement of consignments to and from the port.
According to Odolo, "Bad port access road for the past four years has affected the cost of transportation. Now containers that are supposed to move from Apapa port to Ikeja at the cost of maybe N30,000, now cost up to N300,000.
"So all these things are factored into cost of production and affect the selling price that is why you see made in Nigeria goods costlier than those imported. It is unfortunate that people in government seem not to understand this."
Similarly, President of Shippers Association of Lagos, Rev. Jonathan Nicol, said transportation of goods from Tin-can Port to Ikeja which used to cost N50,000 for a 20 feet container now costs N275,000.
Nicol also disclosed that 40 feet container which used to cost N80,000, now attracts about N430,000 to N450,000. He explained that this is mainly caused by bad roads which make them stay on the roads for weeks before they get in and out of the ports. He said importers are made to pay high demurrages because it is becoming increasingly difficult for trucks to get into the port and when they do; they only go for the highest bidder.
Nicol further pointed out that importers are now forced to pay three times what they used to pay for clearing of their goods from the port.