By Jide Ajani
Yesterday's national convention was all about the chairmanship  of the All Progressives Congress, APC.
If the chairmanship of the party is to be used as a bully pulpit to reposition a disparate group of people, then it should be encouraged.
If the chairmanship of the party is to be used as a bully pulpit   to do the bidding of and become beholding to some powerful forces therein, then it should be discouraged.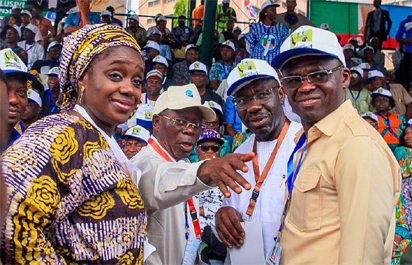 Drawing inspiration from the words of the Holy Book of Christians which admonishes that you ''answer not a fool according to his folly, lest you be like him'; and 'answer a fool according to his folly, lest he thinks he's wise', the bully pulpit syndrome can either be encouraged or discouraged in the space of the APC chairmanship.   And that is where the essence of leadership becomes pre-eminent. Leadership is expected to guide.   Good leadership is expected to guide in a manner that generates positivity in the led.
In politics, as in other spheres of life, the led look up to the leaders.   But leaders who are expected to lead well require or must have some traits, traits that are not sold in the open, polluted market of politics.
It was Thomas Woodrow Wilson (1856 – 1924), who, while writing on art, character, growth, guidance, judgment, life, seriousness, spirit and spirituality, posited that "a man is the part he plays among his fellows. He is not isolated; he cannot be. His life is made up of the relations he bears to others – is made or marred by those relations, guided by them, judged by them, expressed in them. There is nothing else upon which he can spend his spirit – nothing else that we can see. It is by these he gets his spiritual growth; it is by these we see his character revealed, his purpose, his gifts. A few (men) act as those who have mastered the secrets of a serious art, with deliberate subordination of themselves to the great end and motive….   These have 'found themselves,' and have all the ease of a perfect adjustment".
When Wilson talks about "those who have mastered the secrets of a serious art, with deliberate subordination of themselves to the great end and motive", he was referring to the greater need for introspection, deep thinking and a realization that leading a country of over 180million people is not about what the leader merely wants for himself or what catches his fancy, but what he has to offer for the general good.   The same goes for the leader of a political party, in this case, the national chairman of  the  APC.
And because that is the ruling party, good conscience must, of necessity, dominate.
My conscience! Your conscience! Our conscience! Their conscience!   Therefore, it is in our collective interest to hold the party accountable. 
We all have a stake in the country Nigeria but we allow our emotions and desires becloud reason.   Whatever we do as humans, conscience is supposed to serve as a prick.   But that is a mere supposition.   That is why Nigeria is in a mess.   And that is where scruples come in – for without scruples, unconscionable acts are allowed!   That is why one of the most abusive qualifiers in the dictionary is the word 'unscrupulous'.   To be described as an unscrupulous individual decimates the humanity in that person. Therefore, in all we do, a tincture of scruples as a guide would go a long way in attenuating the debilitating influence of desire and emotion over reason.
So, what do we know to be true about this APC and its national convention which eventually held yesterday?
One way or the other, the bug of impunity bite  the party.   That same bug bite  the PDP so much so that when it was the ruling party, it poisoned its very essence.
A former state governor, now serving as minister, has rendered  a  state chapter of the APC discombobulate.   Even up till the eve of the convention, litigation still lingered in the affairs of that chapter.   He is not alone.   A serving minister, too, has been at daggers drawn with his state governor. That explains why there were 24 states with very testy congresses, with divisions stealing the day.   These, in spite of the fact that President Muhammadu Buhari is not known to suffer idiocy – at least, in a manner of speaking.
Niccolo Machiavelli, 1469-1527, warned those in politics that "he who abandons what is done, for what ought to be done, will rather bring about his own ruin than his own preservation".  
What, really, ought to have been done was to have congresses devoid of rancour.   However, in most cases, what was done was  that parallel congresses held in some states while some other heady  politicians  defied court orders and still went ahead to conduct congresses.   But the party cannot continue to dwell on what ought to have been done, hence its decision to harmonise lists from states considered high  impact. In doing so, some have wondered if the harmonisation is not in itself a way of tolerating  irresponsible conduct since in the instances of parallel congresses, both sides couldn't have been right, just as both sides couldn't have been wrong.   But to dwell on that would equally mean postponing the convention, which, incidentally, had suffered serial postponements.
The  importance of the chairmanship of any political party, how much more, a ruling political party in a TWC – Third World Country – like Nigeria, cannot be over-emphasised. That was why when the decision to finally zone the vice presidency of the APC to the South-West, Pa Bisi Akande, then acting chairman, had to be caused to step aside, and the office  re-zoned to the South-South.  That was how John Odigie-Oyegun emerged as national chairman.  And because the zoning arrangement subsists, the South-South still has the slot. Therefore, enter Adams  Aliyu Oshiuomhole, the indefatigable labour leader and former Edo State governor.
It is on Oshimhole's shoulders that the responsibility of clearing the cobwebs that are hanging all over the  APC has now fallen.
The challenges should not be daunting for a man who led the labour movement for years, recording, in the process, feats that are now difficult to replicate.
With  Oshiuomhole, Buhari and some leading lights of the APC appear to be comfortable that the party is set to re-engineer  itself for effective performance.   The shambolic disconnect between the party, its members in the NASS, as well as the discombobulate intra-executive relationship all suggest that the APC is still a contraption.
Yes, whereas many have described the party as an election-winning machine that was hurriedly put together to defeat the Peoples Democratic Party, PDP, it is now the responsibility of leaders of the party to disembark from that posture of machinery, to something that connects with the voters that voted it into power.  Buhari as President and Commander-in-Chief has been putting things together as best as he could, but he could have moved much further had the party been more effective in serving as  his engine room.   The NEC meetings of the party which only began to attract traction because of the need to plan for the  party's national convention only  became regular lately.   The caucus meetings were another matter entirely.   The expected interface between the party and NASS never existed.    Into this unhealthy situation is the plethora of disgruntled, unhappy and desperate politicians that are products of the  rancorous congresses.   Then there is the need for mobilisation in preparation for the 2019 general elections.   Buhari's position not to interfere in party affairs would only make better sense if those in charge of the party operate with good sense.   That is why all politicians must understand that no one is indispensable.   To anyone who is made to falsely believe that he's indispensable, he should beware.
And  the late President Charles De Gaulle, 1890-1970, of France, who said that, "the graveyards are full of indispensable people", simply meant those who had allowed praise-singing to delude them into having a false sense of self-importance only end up like all mortals:   They die!   Lesson: No one is indispensable.
With the gale of withdrawals – induced or natural – from the contest at the convention, it merely shows that no politician or individual is indispensable.