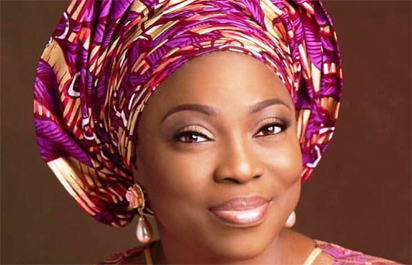 Bolanle Ambode
Wife of the governor of Lagos State, Bolanle Ambode, has urged women in the state, to pay due attention to their health and speak out against social vices like domestic violence, child abuse, rape and teenage pregnancy.
She gave the charge at a women's forum organised by her, at the Police College, GRA, Ikeja, to address issues of women's health and recurring social vices in the society.
Mrs Ambode noted that good health was a prerequisite for every other thing, including good attention to children and family, business and even political activities, stressing that without good health, nothing meaningful could be achieved.
According to her, "health is wealth' they say, because good health is the gate way to everything. To have good health, we need to take care of our body, mind and soul.
"It is when we have good health that we can run around for business, take care of our homes, our children or engage in political activities. When we have sound health, we can better attend to all issues and concerns."
The governor's wife who condemned the high rate of prevalence of social nuisance in the society, told the women to boldly voice out their discontent against domestic violence, child abuse, rape and teenage pregnancy.
She described the attitude as barbaric and unacceptable in civilized climes, charging women to seek to know their rights under the law, to shun silence and be vocal voices for their own cause.
Mrs Ambode said: "Importantly too, we would be examining the rights of women under the law, in the face of persistent social problems. When we know our rights, we can speak better and act better, to protect ourselves if and when those circumstances arise."
She reminded the women of their natural role as mothers and coordinators of the family unit, which according to her, imposed on them the salient responsibility of bringing up their children in the most decent way for a decent and moral society.
Speaking at the event, Deputy Governor of Lagos State, Dr.  Oluranti Adebule, said the forum provided a platform where women could engage in sustainable discourse to increase their knowledge and enhance their awareness, on health and well-being as participants.
Adebule said it was unfortunate that 23 years after countries signed pledges in 1995 Beijing Declaration and Platform of Action, women still faced many health-cum-social problems, saying that there was need for recommitment to address them.
She urged Lagos women to embrace sustainable advocacy and take conscious action on matters concerning their health and how they were treated by the society at large.
"We should no longer be stereotyped into silence but become vocal advocates for improved health delivery system and social justice for women in Lagos State and the country.
"As critical stakeholders, our role must be focused on investing and increasing access of more girls and women to good health, quality education; ensuring that laws that respect and ensure the rights of women are enforced and help create gender-posture media messages that support women and girls in distress," she said.
Adebule, however, appealled to all women to join hands with the government in the battle against dogmas inimical to healthy lifestyle, social malaise of domestic violence, child abuse, rape and teenage pregnancy.
Speaking on the topic: Be the Voice against Child Abuse and Teenage Pregnancy, Mrs Modupeola Adebambo of the Ministry of Youth and Social Development, submitted that children who were sexually abused, tended to be sexually active thus exposed to teenage pregnancy, sexually transmitted diseases and alcohol addiction, among others.
She appealed to parents not to abuse their children in whatever form, adding that parents should teach their children sex education to make them aware of the danger inherent in sexual abuse.
Director, Office of Public Defender, OPD,  Olayinka Adeyemi, who spoke on domestic violence and rape, urged women to speak out against domestic violence and report such cases to the OPD for immediate legal action.
While the duo of Mrs. Rashidat Hassan and Mrs. Akintunde Ibironke of the Ministry of Health, advised the women to go for regular checks, for early detection of ailments.
The programme came in two sessions, with the first session dedicated to general health screening, cancer screening and distribution of 500 free eye glasses while the second session was devoted to health talks and topics on issues of social vices.
All dignitaries at the event took a stand against domestic violence, child abuse, rape and teenage pregnancy, and encouraged healthy living.
The programme saw over 3000 women in attendance.