By Samuel Oyadongha
YENAGOA— Governor Seriake Dickson of Bayelsa State  has sworn in a six-member Commission of Inquiry to ascertain the immediate and remote causes of the civil disturbances and unrest that, occurred last month in and around Amassoma, host community of the state-owned Niger Delta University, in Southern Ijaw Local Government Area of the state.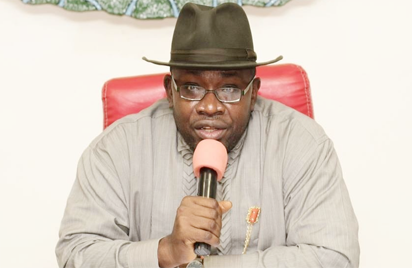 The governor also urged members of the commission to ascertain the immediate and remote causes of the forcible sealing-off and the destructions that occurred in the Niger Delta University.
Dickson gave the charge during the swearing-in ceremony of members of the commission in Yenagoa.
The governor in a statement  by his Chief Press Secretary, Mr.  Francis Agbo,  called on communities hosting tertiary institutions in the state to protect educational institutions sited in their areas.
Calling on the commission to identify the perpetrators of the unlawful acts and their sponsors, if any, he stressed the need for community leaders to always draw the attention of the state government to any breach of the peace in their localities.
The Commission of Inquiry, which is expected to determine the number and identities of persons injured or killed during the civil disturbances, is also to determine the extent of damage to property, both public as well as private, if any during the incident.
Dickson directed the commission to submit its report and findings within 30 days from the day of its first sitting.
Dickson also met with stakeholders of Amassoma community on the need to keep the peace and work with the government for the stability and progress of the state.