By Rev. Fr. Prof. Kanu (OSA)
ON 1st  October 1964, as Nigeria celebrated the 4th  anniversary of her independence, the President, Dr. Nnamdi Azikiwe, in what may be considered a precognition, said in his message to Nigerians:"Let it not be said of us that we struggled all those years to win independence for our people and when we had the chance to build heaven on earth for them, we made a colossal mess of our country because of our selfish materialism… and allowed our private prejudice and partial affections to distort our interest to our motherland."
Two years later, when one would have expected that we should bemaking a fundamental option for national unity, and thus, put our house in order,Ahmadu Bello granting an interview to a western journalist on northernization policy,said:"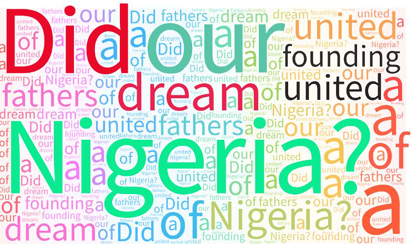 Northernisation policy
The Igbos are more or less a type of people, whose desire mainly is to dominate everybody. If they go to a village or a town, they want to monopolize everything in that area. If you put them in a labour camp as a labourer, within a year, they will try to emerge as the hit man in that camp … In 1952 when I came here, there were only ten northerners in our civil service, and I tried to have it northernised. And now, all important posts are being held by northerners.A northerner first, if you can't get a northerner, then we take an expatriate like you on contract. If we can't, then we have to employ a Nigerian, but on contract too."
The benefit of hindsight shows how we have fallen and made a colossal mess of a nation that is inherently great. A cursory glance at the historical evolution of our country also manifests how we have created an aperture for prejudice and partial affections that has distorted national interests. William Shakespeare said that: "There is a tide in the affairs of men, taken on the crest leads on to fortune, omitted, all the journeys of life are bound to end in sorrows and miseries."
For several decades now, scholars from various parameters of life have made attempts at waking the sleeping giant. The present memoir is a contribution in this direction, and one of the biggest dreams of our time. And to review a work of this magnitude is both a privilege and a pride for me. It is a privilege because I am confronted with the remarkable novelty and creativity with which the different authors handle themes within the broader concerns of national interests. It is equally a pride because distinguished and fellow Nigerians have courageously ventured into a terrain in Nigerian affairs that until hitherto, was considered complex and yet timely.
The first part of this memoir opens with a paper from an erudite scholar, a Distinguished Professor of political economy, Prof. Gabriel Babawale.   He avers that our nation will remain perpetually backward, staggering either like a drunkard or get dismembered unless we adopt a social economy paradigm of development which would launch a development process that is socially just, economically productive, ecologically sustainable, politically stable and participatory and culturally vibrant".
Launching a new perspective, Sen. Anthony Adefuye, the Lion Heart of Somolu, argues that if we had allowed the British to stay after independence, Nigeria would have been better. He acknowledges that our Heroes Past did their best; however, he observed that they were too ambitious and thus created permanent disaffection in the political terrain.
Succeeding, is a piece by Mr. Mark C.Orgu, the Editor-in-Chief of the  Afrikanwatch.  He reflected on the Tripartition Act Strategy of the British, and  expressed deep worry over our quest for a united Nigeria. He observes that there was never a time in Nigerian history when she was united. He thinks that the British came and ridiculed our political system and institutionalized the game of ''born to rule in the north".
Headache heroes
The next paper comes from Mr. Sam Omatseye, the Chairman of the Editorial Board of the  Nation Newspaper. He believes that Nigeria does not have national heroes, but heroes in closet.He calls them'headache heroes' and thinks that the reason we don't have national heroes is the failure of the heroes themselves. Reacting to the preceding perpective, His Royal Highness, N. L. A. Iraron JP, disagrees with the idea of 'heroes in closet' and asserts that Nigeria has National Heroes, who are the founding fathers around whom the idea of nationhood revolved. He holds that heroes are not about perfection, but about foundational approach to nation building.
Rev. Fr. Prof. KANU, Ikechukwu Anthony, O.S.A., in the next paper corroborates with the idea of national heroes. He,  however, expanded the parameters of national heroes to accommodate Christian missionaries, like Mary Slessor whose image of courage and open heartedness remains engraved in the hearts of many Nigerians.The seventh paper was written by Prof. Patrick E. Egbule, aProfessor of Vocational and Agricultural Education. He insists that Nigeria has national heroes and not heroes in a closet, as evident in the national consensus on the stature of Umaru Musa Yar'adua and Dr. Alex Ekwueme. Pastor Martins Oluwafemi takes a different turn in the next paper and opines that Southern Nigeria was divided into East and West to the advantage of the North. He traces Nigeria's problems to her amalgamation, which was premised on faulty lines.
Mr. Dennis Amachree (MON), in the succeeding paper, calls for the reorientation of the Nigeria Police. He maintains that they need to see themselves as professionals, providing services of safety to the public, and not a force established to recover debts or get involved in land matters, etc.The tenth paper is the second of our host, Mr.Mark C.Orgu.He calls for respect for diversity to save Nigeria from disintegration.In the ensuing paper, Omenihu Alfred, Editor-in-Chief of  National Impact Glitz holds that Nigeria has recorded poor political and economic increase as a consequence of the distortion of the initial federal system of government by the military.
Originality/insightful imagination
The authors of the papers in this memoir, like artists, have combined originality with insightful imagination, and carefully treated the historical, conceptual and substantive issues in Nigerian History. Their coherent and systematic approaches have the capacity to expand the intellectual horizon of their readers.
This memoir is an ideal guide for national resurgence. It is a vade mecum for anyone who sincerely wants to know where we have come from, where we are and where we need to be as a nation. William Shakespeare once said: 'There is no darkness but ignorance'.
Rev. Fr. (Prof.) KANU, Ikechukwu Anthony, O.S.A. Professor of Religion and Cultural Studies, Tansian University, Anambra State