By Chris Onuoha
For the young, beautiful and talented Damilola Adeshina, utilizing the natural endowed gift from God positively is what every woman should embrace to show forth the feminine strength in her. Damilola is a 500 level Accounting student of Backcook University, Ogun State whose passion for modeling supersedes her interest in her chosen course of study. She is a star to watch out for as her appearance in various modeling shows speaks volume. For her, becoming World's top model and Miss World is a reality that is more than a dream.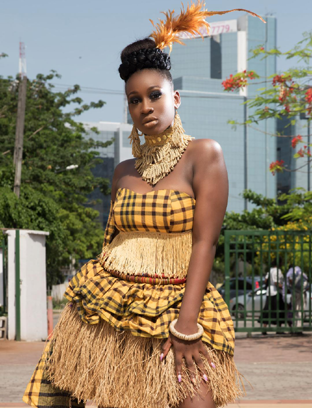 Why are you interested in becoming a model instead of pursuing your noble career as an Accountant to be? 
My name is Damilola Adeshina but my fans call me Dammy Adesh. I am a native of Ijagbo in Kwara State. I am a 500 level student of Babcock University studying Accounting. It has always been my passion to be a model and I see it as a platform to be a role model and be influential in my community. I am interested in this career because I believe I have what it takes to be a top model and it is my desire to be the next Miss World. Accounting broadens my scope but I believe that I am born to model.
What are those qualities that make you think you are a model?
I see myself as the most beautiful girl in the world and the belief alone is a propelling factor. I have a figure and shape with good height and also intelligence. I have a strong personality with good sense of humour. I love challenges because modeling has always been my dream. With high premium placed on my belief, I want to glamorously rock every fashion show and become famous and well respected. I want to be brand ambassador for various organizations and companies. Besides, I have undergone catwalk classes, poise and etiquette grooming and photographic grooming at Steve Ray Modeling and Fashion School.
What are your goals as a model and how do you see yourself progress in this industry?
I want to be a voice that will resonate in the minds of people. I want to create a new face in the industry by helping up and coming youths that want to be models and also to be diligent and hardworking in my daily activities.
I am an out spoken person. I love to say my mind and say the truth at times. I love good people with good sense of humour, people that I can easily understand and they understand me as well.
Like they say, people make the world go round, I am always careful of my words in other for me not to offend people when I relate with them. I am patient and friendly lady and I like to observe a situation before I react.
Would you model any kind of clothing?
Yes. I can model any kind of clothing and also like to try new things. I am lover of fashion, I love wearing good clothes, I love trending fashion accessories, I love Gucci and I look forward to work with all the fashion brands.
 Are your parents in support of you becoming a model? 
Yes they are. They are my number one fan and they have always supported me. Also, I have a good manager and a good thing that makes sure  that everything goes right for me; my designer/instructor, my make-up artist, my hair stylist, my gym instructor and everyone else. We all work together as a family to achieve my dreams.
What are the challenges you have faced as a model?
I wouldn't call them challenges because they are things that people do when they become models. For instance, on a shoot I was on, I had to be painted all over in a zebra look, and the ink rolled into my eyes (laughs) it was so painful but I just had to endure and get use to the system. So I don't see anything as a challenge that I have to face as a model, it's more of experience and getting to be on top. Academic activities have its own way too, but I have been able to factor the challenges of modeling and schooling at the same time.