By Ben Agande
Kaduna—A cholera outbreak has been reported in Government Girls Secondary School, Kawo, Kaduna, with about 40 students reportedly hospitalised at the General Hospital, Kawo, while 89 students are under watch.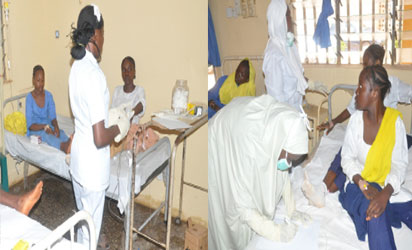 At press time, there was no official statement from the state government, but health workers had been deployed to the school to manage the situation.
A Deputy Director, Disease Control Centre, Ibrahim Suleiman, told journalists that he can only confirm 39, who have been evacuated from their hostels to the hospital.
He said: "We have 39 cases on admission due to diarrhoea. We are yet to confirm the real cause, but there is a lot of contamination around the water source the students are using, which may be a serious contributory factor.
"Apart from these 39 students on admission, we are also investigating another 89 cases."
A parent, who spoke to Vanguard confirmed that his daughter was affected.
The parent, who declined to be identified for fear of being victimised, blamed the outbreak on poor sanitary condition in the school.
The spokesman to the state governor, Samuel Aruwan, confirmed the incident.