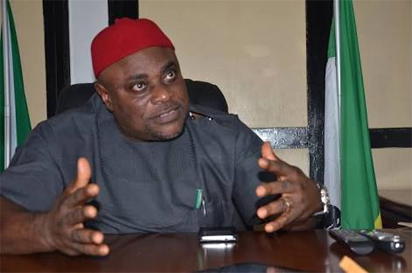 Chief Victor Ike-Oye
By Vincent Ujumadu
AWKA—THE national chairman of All Progressive Grand Alliance, APGA, Chief Victor Oye has said that the party was yet to take a decision on the issue of a presidential candidate to support for the 2019 general elections, insisting that all the arguments on the matter so far were mere speculations.
He also said that nothing would make APGA to accept Imo State governor, Owelle Rochas Okorocha back in the party because he had proved to be a very insincere person.
Addressing reporters in Awka, Oye described as untrue, the speculation that APGA would endorse President Muhammadu Buhari because of what some people tagged his tactical support for APGA during last year's governorship election in Anambra State, adding that an important issue such as presidential election would not be a decision to be taken by one man.
He said: "Whether or not APGA will support President Buhari in 2019 is not a decision to be taken by one person. 2019 presidential election is not even the immediate concern of the party. The election is still far away and the party primaries are yet to be conducted.
"Politics is very dynamic and anything can happen tomorrow. But my assurance is that the decision we will ultimately take will be in the best interest of our people, particularly APGA members across the country. We are going to weigh all options and keep our eyes on the ball."
Oye explained that so far, no party or group had approached APGA for any coalition, adding that all the things being attributed to certain individuals on the matter were mere speculations.
On the report that the Imo State governor, Okorocha had shown interest to return to APGA, Oye said he was not aware of that, insisting however that even if Okorocha made such a move, the party would out rightly reject him    because his moves were not sincere.
He added: "As a Christian, I am very familiar with the story of the prodigal son, who returned to his father after squandering his wealth, but Okorocha's case is worse than that of the prodigal son in the Bible."