Ibadan – Vice President Yemi Osinbajo has said that the federal government is decentralizing power generation and distribution in the country.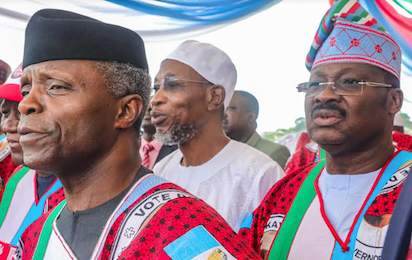 The Vice President made the disclosure during a town hall meeting with a cross-section of youths from Oyo State held at the Ogunlesi hall UCH ibadan.
The event was co-hosted by the Vice President's Office and Oyo State Government.
Osinbajo said that the decentralization of power sources in Nigeria would give opportunities to organizations and industries to procure power for eventual distribution among consumers.
He stated that the exercise would make it much easier to enjoy power supply even to residential houses across the country.
"The ongoing solar system electrification project across various markets in the country is part of the measure to decentralize power generation in the country.
"We are licensing companies to provide power to companies, markets and several economic clusters," he said.
Osinbajo stated that the nation's agricultural sector has improved, saying importation of rice to Nigeria, which amounted to five billion Naira has reduced to two per cent.
He stated that such was achieved through the current administration's policy in Agriculture aided by the Anchor Borrowers' Programme(ABP).
"Today, only two per cent of rice consumed here are imported while the remaining 98 per cent are locally produced," he said.
Osinbajo stated that 8.2 million children are currently being fed across the nation on daily basis to generate employment opportunities and also encourage educational development in the country.
The Vice President stated that 200,000 youths have benefited in the first batch of government's N-Power programme, saying 300,000 youths have been shortlisted as for the second batch to meet the 500,000 target.
Osinbajo called on the youths to take advantage of Bank of Industry (BoI) loan initiatives and other federal government's interventions to establish small scale businesses.
He said that the youths were the future of the country and urged them to be ready to occupy leadership positions of the country.(NAN)