Comrade Adams Oshiomhole, Saturday, took charge of the All Progressives Congress (APC) as National Chairman, saying the APC is the darling of Nigerians while the opposition Peoples Democratic Party (PDP) "is no alternative".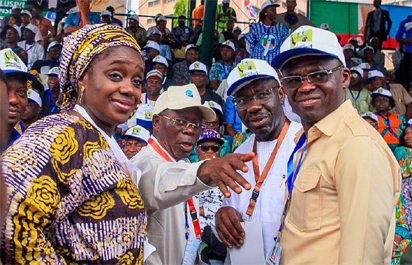 "I believe that Nigerians won't forget in a hurry where we are coming from and I believe that, given the revelations so far,  it is not difficult for anyone to see what would have happened to Nigeria if the PDP had remained in power. I can't deny that we have solved all the problems.  We can't deny that there are still challenges and that there are a number of things that we would need to do differently, there is no question. At this point, APC is the darling of the people, PDP is not an alternative", he said.
Saying that there was unanimity on the new APC National Working Committee's capacity to provide efficient leadership and rebuild the spirit of the APC and to reinvent the mission and vision of the party and we enjoy the trust of all shades of the family and, when people trust you, half of the job is done. Then you are able to initiate ideas, you are able to mediate in internal differences and people trust that, because you are their own, you cannot work against them and there is no suspicion about who is behind the views that you parrot and the issues that you settle for.
"So, I am very hopeful with the unanimity that the members have shown in my person that gives me the moral pedestal to intervene in all our issues.
"We have to deepen democracy, to give members a voice by ensuring that the party organs at every level meet and discuss issues and, at the national level, we need to challenge the political elite and the business elite to begin to discuss issues  affecting the economy, polity and society".
Asked if he was afraid of the 2019 elections, he said: "No, not at all.  We fought for multi-party democracy. I was never in support of a one-party state and that is why while I was in organised labour, we fought actively not only to chase the military out of power, but also to insist on multi-party democracy".