calls for effective dispute resolution mechanism for economic growth
Lagos – Vice President Yemi Osinbajo on Monday called for a strong and effective dispute resolution mechanism for economic growth and investment in Africa.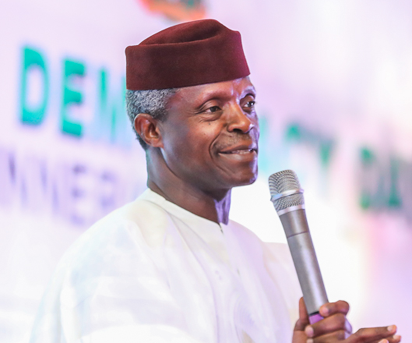 Osinbajo made the call in his opening remarks at the Third International Court of Arbitration Conference held in Lagos, organised by the International Chamber of Commerce (ICC).
Theme of the conference is: "Viability of Arbitration in Africa, Thinking Globally, and Acting Locally."
He said: "The existence of a strong and effective dispute resolution mechanism is a crucial driver for economic growth and investment in Africa.
"Investors, whether domestic or foreign, look beyond pure Economic fundamentals, to require assurance for effective legal frameworks for enforcement of awards and a credible judicial system, which gives them a reasonable level of comfort and confidence.''
The vice president was represented by Dr Jumoke Oduwole, a Senior Special Adviser to the President on Trade and Investment.
Osinbajo said: "In the past few decades, there has been an incredible expansion in global trade and investment, resulting in significant increase in the volume of arbitration cases in the continent.
"As a natural by-product, there has been an increase in the number of international arbitration proceedings resulting from investment disputes.
"However, while these arbitrators involve African parties or interest, most of these arbitrators have their seats outside Africa and sometimes do not involve African institutions, law firms or legal practitioners.
"The situation is not peculiar to the African region; as a result, emerging economies have expressed concern about the perceived domination of international arbitration structures by the northern hemisphere.
"Therefore, ICC needs to do more to enhance its position as the foremost worldwide trade organisation, by championing issues of diversity and regional representation in the arbitration community."
The vice president also said that there was provision for the establishment of a Dispute Settlement Body (DSB) in the recently executed AFCFTA, which was adopted and signed by 44 African Union Countries in March.
He said that the DSB provides a bespoke arbitration mechanism for dispute resolution, through agreed rules, between state parties to the agreement.
"I encourage all participants present at the conference to familiarise yourselves with the provisions of the Africa Continental Free Trade Agreement (AFCFTA) and invest your skills to register on the dispute settlement panel.
"The aspiration is that the move will encourage the greater involvement of Africans in the settlement of inter-Africa trade dispute and thereby promote the deepening of intra-Africa trade, which Nigeria fully aligns with," Osinbajo said
He said that the ICC's annual conference was a key forum for dialogue on international commercial arbitration in Africa, providing indispensable updates on developments in the region.
"It is indeed becoming an important gathering for the African Arbitration Community.
"Nigeria is fast becoming a leading seat of Arbitration and settlement of investment dispute between contractual parties.
"The current administration has been focussed on delivering on Economic growth in Nigeria; the Economic Recovery and Growth Plan (ERGP) was drawn to keep the economy on the path of sustainable economic growth and global competitiveness," he said.
The vice president also commended the Chief Judge of Lagos State for establishing the Small Claims Court for the state in April.
He said that the Lagos State judiciary collaborated with the Presidential Enabling Business Environment Council (PEBEC), toward creating an enabling business environment for Nigeria.
Osinbajo noted that if we have a strong legal framework for arbitration, including judicial reform which PEBEC could drive, there would be increased Foreign Direct Investment, as a country and as a region.
He urged other members of the arbitration committee in various African Jurisdictions, to replicate same with similar governmental bodies in their home states or engage government directly like Nigerian Arbitration Community, by pushing hard for arbitration reforms.
The conference also had in attendance Mr Alexis Moore, the President of the International Court of Arbitration.
Others were Mrs Funke Adekoya (SAN), the Partner, AELEX Nigeria; Mr Babatunde Savage, the Chairman, ICCN, as well as other senior lawyers in the legal profession. (NAN)