By Chris Onuoha
Big Church Group Chairman Dr. Olakunle Churchill has reacted to news making round in some social media alleging that he (Churchill) dumped one Zainab Rufai in the course of their relationship some years back over inconsistency in relationships.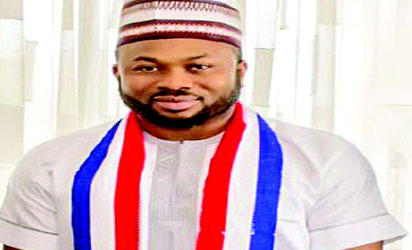 Meanwhile, some social media platform has gone agog with backlash emanating from Zainab with series of tones, that Churchill cannot be trusted, saying he breaks properties and beats his ex wife, all in the name of aligning with #mustbringdownchurchillgang# to call him out and portray him as evil.
Reacting to such unfortunate statement from Miss Rufai, Churchill waved the allegation as attention seeking fabrication and honestly disclosed to Vanguard by phone contact that Zainab who he never had serious intimacy did a good job in composing such story which obviously sounded believable especially with pictures to back it up.
In his words " This is very funny to me and I must give her kudos for a well scripted write up to drag me out. I certainly know she has join forces with the #mustbringdownchurchillgang to portray me as evil before the public. In truth, Zainab was known to me at her young age and we shared some closeness but no engagement or marriage proposal of any sort"
"It's unfortunate that public opinions have been swayed in her direction but I don't want to give attention to her and all she had said as they were well cooked and garnished by the same source and group that have been blackmailing me. A wise man once said that not all relationship leads to marriage and some friends are for a reason, some for a season and some for a lifetime, Zainab who recently contacted me for financial assistant which I rendered to her, was one of those flying visitors in a man's life" he added.
The lingering marital crisis between Olakunle Churchill and his estranged wife, Tonto Dike has raised a lot of dusts and accusations which have involved extended parties. The Big Church Group Chairman believed that the call out from his friendship with Zainab was prompted by the conspiracy and a contract offer which was postponed. He however asked Zainab to desist from such allegations as it would never get her anywhere.
Efforts to authenticate Churchill's side of the story from Zainab proved abortive as she could not be reached.