By Omeiza Ajayi
ABUJA – The federal government has explained its decision to launch a new website for the Office of the Secretary to the Government of the Federation OSGF, saying, "the functions and responsibilities of the Office makes it highly imperative for it to have a functional website that would deliver information about the structure, policy thrust and activities of this administration on a daily basis".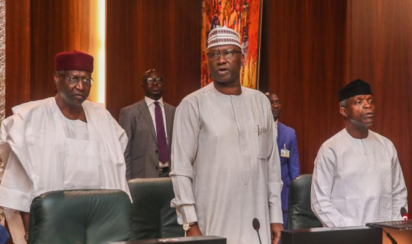 Unveiling the upgraded website, http://www.osgf.gov.ng, Monday in Abuja, Secretary to the Government of the Federation SGF, Boss Mustapha said the old OSGF website did not reflect the status of the OSGF and was characterized with the several limitations ranging from the fact that the technology upon which the website was developed is old, hence limited features.
Others were "limited security features which made the website prone to hackers; media files such as video clips are hosted on external server which is contrary to Government policies; the website did not comply with the standards of operationalization of Executive Order 001; there is the need to train and retrain staff in this area, and there also the need for acquisition and installation of computer hardware for the office".
According to him, the OSGF therefore decided to upgrade the website "due to the need to lead MDAs compliance with the dictates of EO 001 on the Ease of doing Business, particularly relating to the directive for MDAs to host a functional website.
"The upgraded OSGF website project therefore has the following three major components. Redesign and upgrade of OSGF website using newer technology platforms (Laravel and October CMS); Capacity development of Web Development Team (Webmasters), Web Content Providers for the Office, and acquisition and installation of computer hardware".
He said a major achievement in this project is the revamped e-Participation platform for citizen participation and engagement in governance which has been integrated with the website. The portal will allow citizens carry out the following: Request for information from Government; submit an idea to Government; lodge complaints to Government; respond to Government; report issues to Government; and give compliments to Government".
Arrangements are being concluded to train nodal officers from MDAs who will manage this portal while the OSGF will serve as the Coordination Centre.
The N64 earmarked for the upgrade of the website had triggered a wave of backlash with many Nigerians accusing the federal government of not being prudent with state resources but the SGF said the money covered the newly introduced features of the website, procurement of servers, training and provision of consultancy services.