Comrade Timi Frank is the Deputy National Publicity Secretary of the APC who was allegedly suspended from the position in controversial circumstances in 2016. He belongs to the nPDP bloc within the ruling party and was actually the National Youth Leader of the now defunct faction of the PDP.
He is also the 'spokesman' of the Alh. Kawu Baraje-led "faction" of the nPDP. In this interview, he said the bloc has not been fairly treated, adding that they would meet and decide on the next step. He insists that the Baraje group would not hesitate to rescue Nigerians, the way it did in 2015.  Excerpts:
What is the problem with the nPDP because it appears that some of your members are not on the same page with the Baraje group to which you belong?
I want to debunk some of the lies from some of our members, talking about Sen. Abdullahi Adamu and Hon. Abdulmumin Jibrin, who were in my party secretariat yesterday to oppose the view of the majority, to oppose what our leaders have said and chairman of our group, Alhaji Kawu Baraje who recently was in the secretariat to submit a letter to inform the party of our grievances of the new PDP that joined the merger that brought the APC into power.
In all of these, I want to make it very clear that we have no faction in our group. I saw in some of the papers I read today that there is crack in the new PDP. There is no crack as far as we are concerned. We only have one group, we have only one leader and that leader remains only Alh. Kawu Baraje and I can tell you clearly that without fear or favour, and I want to make it known to all of you that Alhaji Kawu Baraje was not alone in that letter. He has the mandate of over 95% of some of us that joined the new PDP into the APC that made new victories possible in 2015.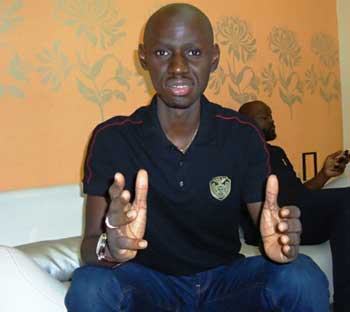 You can see and everybody knows that it was because of our decision to join the APC that practically brought the victory we are all enjoying today. So, when people like Sen. Abdullahi Adamu who used to be one of us came up with some of his positions yesterday, I want to clearly make it known to the Nigerian people that they must have forgotten history and I want to make it known to you that whatever they have said to counter our move, are total lies.
Nigerians are there to testify. I can make you understand, they said the new PDP group has benefited massively from this government, that is one of their claims but that is not true. But once more, I want to make it very clear that we are not here to respond to individuals, we are here to make it known that our proposal, our letter is to the party, so, it is left for the party to either take it seriously or not. But I believe any serious party will take whatever position or decision we have brought before them to look into.
Today (Tuesday) makes it seven days from the day our group brought this letter to the party. But as it stands, we have not gotten any response yet from them. As we have said, whatever we must have said in that letter, it is not an empty threat. If they fail to recognize us, so be it. But at the appropriate time, we are going to respond to Nigerians based on what we have said. It is not just a mere threat, it is not just a mere ultimatum but I will tell you clearly that we are meeting our leaders, we are going to come up with a clear position to brief Nigerians on our next step if finally they don't attend to us.
And again I want go back to some of the benefits that they said our group has gotten. The Senator and Jibrin said yesterday that we benefited by having the Senate President from the new PDP, the speaker, some senators, governors and so on. For God's sake, these are elected positions.
Nigerians are aware of how we succeeded in getting the Senate President from the new PDP and the speaker from the new PDP. He was not supported by our party. He was neither supported by the executive arm of government. We managed to get these two positions by the grace of God and by the support of the Nigerian people and also the support of senators and members of the houses that believe and have confidence in the leadership of Sen. Bukola Saraki and Hon. Yakubu Dogara and they chose to stand by these two people because they believe these two people will take the party and Nigerians to the promised land. So far, so good, we are very happy with them, they have done very well despite challenges and the circumstances and hurdles they passed and they are still passing through till today.
So, nobody should give credit to either the party or anybody saying they gave us anything in the new PDP. We fought to get these two positions. So, when they also said we got Gov. Aliyu Wammako, probably we got Musa Kwankwaso, Sen. Danjuma Goje, and I think they mentioned some other names. These people were elected in their various states, they were elected by their people to represent them in the Senate and in the House of Representatives. They never got there based on the fact that they were new PDP should be able to benefit because they contributed in bringing the change and the government of today, therefore, let us reward them with these positions. So, this is not true.
It is very clear within our group today. The only two beneficiaries we can remember in our group are Rotimi Amaechi who finally became the Minister of Transportation and Sen. Jummai Alhassan who became the Minister of Women Affairs. These are the two people we can remember. So, I want to make it very clear again that we are not going to be intimidated by any group or anybody as long as the Nigerian people are happy with us, but I want to use this opportunity to remind my party that this is same way we were trying to correct the wrongs of Jonathan's government then in the PDP, they never listened to us; we told them when we were aggrieved, our leaders moved round the states to talk to party members, to ask the government at that time to listen to our views but at the end of the day, they refused, they ignored us, that was how we left. And when we left, we happened to join the APC and that was how today, we are enjoying from this so called change agenda we are talking about. So, if today 95 per cent of us, who came from the new PDP are aggrieved and they felt they could undermine us, or they would ignore our group, so be it.
But at the end of the day, we believe we are going to take a decision that will benefit the Nigerian people because we believe that democracy should be all inclusive. Democracy should not be a situation where when you speak the truth, you will be harassed, you will be intimidated and so on. Today, everyone person that is being harassed within the APC, go and check your diary, they are those of us who came from the new PDP within the APC that are still being harassed.
We have not seen where anybody from the ACN or the CPC or the ANPP or the section of APGA that happened to join us is being intimidated or harassed. It is clear. So, we are not going to be intimidated. We believe we are going to be doing the right thing. We believe we are going to do everything possible to rescue Nigeria. The way we rescued Nigeria from PDP. So, if today, we decided to lay our complaints to the party and they feel it is not important for them to attend to our issues, we will leave them to God. God will some day judge.
And I want to repeat that someone like Sen. Abdullahi, he will understand he was accusing the Senate President of being the person sponsoring Alhaji Kawu Baraje to be doing all of these, that is not true.
The Senate President is only one of our leaders in the new PDP, so, he doesn't have the time to persuade anybody to do anything outside the group. Whatever position that Alhaji Kawu Baraje takes today, it is a group, not him as an individual. He has the mandate to continue to speak for us as our leader.
So, I want Nigerians to disregard every information from Sen. Abdullahi Adamu. We all know his antecedents. You can remember under the days of Abacha, the position he took. This is somebody who called for a rally in Nasarawa state as at then to support Abacha. We all know the position he took under the third term bid. He was one of those that supported former President Obasanjo in the bid for a third term.
So, he is somebody who always tries as much as he can to be in the good books of anything that will benefit him or to support any government without advising the government that it is either doing wrong or bad; as long as he is being protected as a person, he doesn't care. Please, Nigerians should not take whatever comes out from him and their group very seriously.
But why didn't you consult them before writing to the APC leadership?
They said again that we never consulted anybody. In a part of their statement, they made it very clear that Baraje and the group never consulted anybody. Of course, we never consulted people like Abdullahi Adamu and his team because we know they had not been with us. Even when we were doing this new PDP as at that time, many of them had one leg in, one leg out. They never believed we were going to achieve it. They were not even part of us when we started. I can tell you clearly, we know our leaders. We know the leaders who drafted the agenda of the new PDP. Sen. Abdullahi Adamu was not even one of them. He came in at the dying minute when he saw that we had almost achieved victory.
I can tell you all these pieces of information because I was privileged as one of the youngest persons who was in the new PDP as at then. I was the National Youth Leader of the new PDP. I know so much about whatever I say to you that it is nothing but the truth. We did not know some of the names that signed their letter yesterday.
Again, somebody like Jibrin, of course you should know that he is very aggrieved with the leadership of the National Assembly; you should know that he is not happy with the Speaker, we are not expecting him to support our position. I can tell you that somebody like Jibrin is neither here nor there as at now. Even in Kano State, his own state, he has lost out politically. So, he is trying to use this as an opportunity to gain relevance politically from the system.
You just said that your group played a key role in rescuing Nigerians from the past PDP administration, three years after, the party you joined hands to rescue Nigerians has been receiving bashing from Nigerians, would you at this stage look back and say the nPDP was right to have joined the APC?
I will tell you clearly that yes, as at the time we took the decision, we believed as at that time that we were taking the right step. We did not have the celestial or spiritual power to know what would be bad and that is why we decided to come up, and to tell Nigerians and to tell our party that this is not what we bargained for. So, it is now left for our party to listen to us, to take our positions and decisions very serious. You can see we are not just sycophants in our group. We don't just sit down and keep quiet because we want to keep quiet. We speak when necessary.
That is why I can tell you again, the same way, the same strategy we deployed in telling our former party then, the PDP the truth that they ignored, that we decided to tell our party of today the truth of the injustice, oppression that is going on in the party.  There is too much of oppression, harassment and intimidation for some of us who came from the PDP to join this coalition.
Do you think telling the APC the truth could make them reposition and win in 2019?
When that time comes, we will cross the bridge. That is why we decided to come together to point out the wrongs and advise them on the path of the truth. It is left for them to listen or not to listen. We are meeting and we going to come up with a decision that we think Nigerians will be happy with.
It is left for the APC leaders to know whether they can win or lose with or without us. But to us, we know that we have values, we have a lot of values anywhere we go to, we have a lot to contribute from our group. It is left for APC to take the opportunity of embracing us to benefit from the values we have or throw away those values. I believe they will find themselves to blame.
What about your ambition to be the chairman of the party?
Well, it is one of the things we are considering if things go our way, and I can tell you that we will be running if our party is going to respond to us and if we are still going to remain in this process. By the grace of God, I will make my position known to the Nigerian people shortly.
Has the PDP made entreaties to your group?
The PDP knows we are the beautiful bride. They know the capacity of those of us who left because that is the party we were part of. They know the roles and the importance and the damage we caused when we left the PDP. So, I believe they want to take advantage of that. That is why it is left for the APC to know whether we are useful or not. But whether we are useful or not useful, so be it. We are politicians and as I have said, we are going to take a position on the next step very soon. We are going to be meeting and we will come up with a position and decision within the shortest time possible based on the seven days ultimatum we gave them. We don't want to be playing to the gallery; our leaders are not those who want to gain popularity from the media or the pages of newspapers but we want to stand by discipline and our action will be made known to the people very soon if those we addressed our grievances to fail to respond to us.