…They are resigning because of their political ambition-Govt
By Rotimi Ojomoyela
Ado-Ekiti- Strong indications emerged Thursday that if Governor Ayodele Fayose did not make haste to appease his aides and make them to stay on the job till the expiration of his tenure, he might be in for a shocker.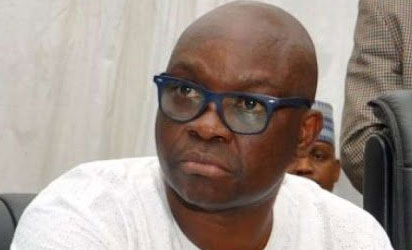 This indication came to light on Wednesday afternoon as another of his close aide parted ways with him.
Also ten members of the State House of Assembly are already gearing up to dump the governor and the Peoples Democratic Party to seek better deals elsewhere.
Apparently afraid of the implications of harbouring disloyal house of Assembly members, movements within and outside the Assembly premises have been restricted, no unauthorised members are allowed to loiter or access the complex.
A source in the Assembly, who preferred to be anonymous told Vanguard that the members only meet at the instance of the Governor, who would instruct the Speaker, Hon Kola Oluwawole to summon members for session and this according to the source does not come often.
Prominent among those who had parted ways with the governor include, former Pro-Chancellor and Chairman of Council, Ekiti State University, Prince Dayo Adeyeye; former Attorney General and Commissioner for Justice, Mr. Owoseni Ajayi.
Others are former Director General/Special Adviser Bureau of Public Procurement, Chief Segun Akinwumi; former Commissioner for Public Utilities, Mr. Deji Adesua; former Board Member representing Ekiti at Odua Investment, Dr. Sikiru Lawal.
Another one who left Fayose in a controversial circumstances was Kayode Osho, a former Commissioner for Works and a blossom friend of the Governor.
Just yesterday, the Governor's personal Assistant on Transportation, Odunayo Ehinafe joined the increasing list of officials quitting the administration for various reasons.
Sources close to the Governor told Vanguard that their reason might not be unconnected with the choice of his successor.
Bello and Osho, both Ado-Ekiti indigene were at several occasion promised the governorship slot by Fayose, only for him to renege and pick a younger person, Deji Ogunsakin, a native of Ado-Ekiti.
Though Ehinafe did not disclose his reason for partying with his Boss but findings revealed that aside from the resentment most of the Governor's aides nursed against him over the anointment and adoption of his deputy, Kolapo Olusola, they all accused the governor of low patronage.
Corroborating Senator Abiodun Olujimi's allegation, that Fayose was authoritarian and dictatorial, Adewummi said the governor runs a "one man show".
However, the State Information Commissioner, Mr Lanre Ogunsuyi in a telephone conversation with Vanguard dismissed all the accusations raised against his Boss by his former colleagues.
On the accusations that Governor Fayose was dictatorial and authoritarian, Ogunsuyi said, " I want to concede to people the right to exit government anytime. For someone who has served the government and decide to leave few months before the expiration of tenure of that administration…that is self serving.
"I know there is enough machinery for conflict resolution within the government we all served. I know some of them are leaving because of their political ambition. None of them in the letters have said something contrary,all of them are grateful to the Governor and it will wrong to say something outside the letter.
"We thank them for the development of Ekiti and wish them well in their future endeavours.
"Fayose is the leader of government and party and he has to take decisions that will not go down well with everybody. And with a fact that we can resign is a measure of Fayose's liberal democratic credentials", Ogunsuyi said.