No fewer than 196 victims of Vesico Vaginal Fistula (VVF) in North East Nigeria had received free surgeries.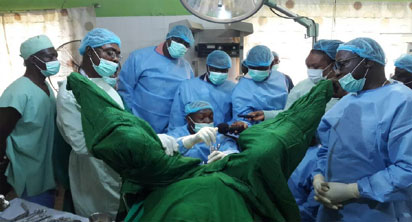 Similarly, several other treated patients in the region are undergoing reunification processes with their respective families.
VVF is an abnormal congenital opening between the bladder (vesico) and the vagina that causes continuous involuntary discharge of urine into the vaginal vault.
It is often caused by prolonged labour, especially for teenage mothers during childbirth and can also be as a result of violent rape of minor.
Mr Aminu Imam, the VVF Surgical Officer at the Specialist Hospital, Yola, said in Yola that the treated victims have shown positive signs of happy normal life.
Imam said that the victims were successfully operated upon while five of the patients were referred to Ahmadu Bello University Teaching Hospital, Zaria.
"Five women had special cases that needed further evaluation and advanced treatment,'' the medical official said.
He said that patients of VVF cases in the state were receiving free medical treatment.
On discrimination suffered by the VVF victims, Imam said government has embarked on massive public sensitisation and awareness campaigns via the media and other public enlightenment programmes to curb the problem.
He explained that the free surgery was complimented by some indigenous foundations.
A report from Dutse says the Jigawa Government plans to foot the remarriage bills of 30 women that had successfully undergone VVF operation in the state.
Mrs Ladi Ibrahim, the state Commissioner for Women Affairs and Social Development, said in Dutse that the beneficiaries were those discharged from the VVF hospital in Jahun Local Government Area of the state.
"It is a usual thing for us to sponsor the marriage of anyone of them who finds husband after her operation.
"We will sponsor their marriage and also provide them with complete furniture," she said.
The commissioner noted that the gesture was to ensure the reintegration of the victims into the society after their discharge from the hospital.
"This is because some of them were abandoned completely by their former husbands, and even sometimes rejected by their relations; most of them are not financially buoyant to keep themselves afloat," she said.
Ibrahim said that they (victims) had undergone training in skills like bead-making, mat-making, leather work and groundnut oil production.
She said that they were also taught food vending, dyeing, making of locust beans and local spaghetti, soap making, perfume and cosmetics production.
"We give them start kits, depending on the trade they learnt; for those in food vending, we assist them with beans, rice and millet, among others," she said.
The commissioner said the empowerment scheme was to create jobs and promote self-reliance among the victims.
Dr Salisu Muazu, Director of Hospital Services, Jigawa Ministry of Health, also said that the state government had treated and discharged over 120 VVF patients.
He disclosed that the treatment was conducted in collaboration with Medicines San Frontiers, an NGO.
Meanwhile in Yobe, an Islamic cleric, Malam Bukar Ali, has expressed concern over increase in cases of neglect and abandonment of VVF victims by husbands.
He said that because of the disturbing situation, they had embarked on massive sensitisation to make husbands accept their responsibilities towards their affected wives.
"The response has been encouraging but those with severe cases were left at the care of their parents and relations," he said.
Hajiya Yagana Usman, a mother whose daughter had VVF, said the husband initially abandoned the wife but later showed concern and care.
Malam Baba Wakil, a health worker in Damaturu, said "increased awareness had facilitated reintegration and care of victims".
A husband of a VVF patient who did not want his name mentioned, described the situation as "very challenging", but added that victims needed support and love.
In neighbouring Borno, a medical staff at the VVF Centre of Borno Specialist Hospital, Maiduguri, who spoke on condition of anonymity, said that they recorded about 70 cases of VVF in the last two years.
"Many of them were as a result of unrelieved obstructed labour, resulting from breakdown in the tissue in the vagina.
"The hospital is getting support from international and local Non-Governmental Organisations, especially in the areas of provision of relief materials and counseling, as most of the victims are Internally Displaced Persons (IDPs).
"Many have been abandoned; some have spent about two years with no one to come for them.
"We at the hospital are providing support for their upkeep; other philanthropists also come in to also support," she said.
Mrs Aisha Wakil, Founder of Complete Care and Aid Foundation (CCAF) in Maiduguri, said her organisation was currently supporting about 50 women with severe cases of VVF ailment in the state.
Wakil said the NGO was supporting the victims with assorted food items and other relief materials to cushion their hardship.
"We have concluded plans to train them in different skills aimed at making them to be self-reliant, thereby making it easy for them to get reintegrated into the society.
"We shall also embark on house-to-house sensitisation of couples on reproductive health issues to enable people live normal life," she said.
A 14-year-old victim in Maiduguri (name withheld), said she had been on admission since January this year, after child birth.
"My husband usually comes to see me; I am now getting better; doctors said I will soon be discharged from the hospital," she said.
In Gombe State, the Chairman of Christian Association of Nigeria (CAN) North East Zone, Rev. Abare Kalla, said they had been encouraging the reintegration of VVF victims rejected by their husbands or families.
"As religious leaders, we encourage husbands to take good care of their wives, after all, they (husbands) are the major cause of the ailment (VVF)," he said.
Mrs Hauwa Yahuza, a relation of a 17-year-old VVF victim in Gombe, said that they were doing their best in taking care of her.
An Islamic cleric in Bauchi, Malam Baba Inuwa, said that many women suffering from VVF in the state had been abandoned by their husbands and relations.
He described the development as worrisome, adding that people should have the fear of God.
Madam Jummai Yakubu, a 35-year-old mother of two in Bauchi, said she had suffered from the ailment for 15 years, until it was repaired recently.
"I thank God I am normal now but sometimes I face discrimination among my people, especially after the death of my husband," she said.
Also narrating her ordeal, 20-year-old Maryam Musa, who hails from Ganjuwa in Bauchi State, said she was abandoned by her husband five years ago when she was confirmed with VVF.
"It started after I gave birth, though he (the baby) died after two months. When my condition became critical, my husband left me, and I had to return to my parents. They are the ones catering for me now," she said.
Another victim, Mrs Hannatu Salihu, 35, said she had stayed in the hospital for over one year without getting better.
"I do not know the whereabouts of my husband; he has not visited me or my family for the past one year; my parents take care of me both in the hospital and at home," she said.
Another victim in Bauchi, Mrs Lami Saleh, 23, said that her husband and parents had been taking care of her, but that the challenge of discrimination came from the larger society.
"They take good care of me, give me all the necessary care, except that I encounter some stigmatisation from people who point fingers at me," she said. (NAN)