Lagos—Vodacom Business Nigeria's Senior Manager for Product Development, Funke Atanda at this year's Girls in ICT Day in Nigeria   said that Vodacom was committed to accelerating the change needed to create relevant opportunities for women through the use of ICT.
By supporting ICT skills acquisition for young girls, bringing them into our organizations and opening their minds to new technologies that exist and continue to develop, Atanda said that Vodacom was able to encourage more girls to choose courses in the ICT sector.
According to Atanda, this would  help increase the number of women in the ICT sector in the near future,  Atanda  added.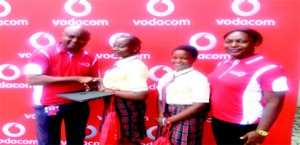 "Initiatives like the ITU Girls in ICT Day would go a long way towards encouraging this change, thus strengthening the sector while continuing to improve social and economic progression in the country.", Atanda further explained.
Meanwhile, in fulfilling its mandate to encourage gender equality in the Information and Communication Technology, ICT, sector, Vodacom Business Nigeria had organized a one day industrial visit for female students from Grace High School, Gbagada and Lagoon Secondary School, Lekki as part of planned activities for the celebration of the recently concluded 7th Edition of the International Girls in ICT Day.
Female students from the schools participated at the celebration where they won the Coding and STEM quiz competitions, respectively.
The International Girls in ICT Day Celebration was organized by e-Business Life Communication Limited, publishers of e-Business Life Magazine.
The  was  part of a global campaign that seeks to encourage young girls to consider ICT as a profession and to contribute their quota to the growth of the industry in Nigeria while also actualizing self-development.
International Girls' in ICT Day is an initiative launched through the Information Technology University (ITU) with the idea of creating a global environment that will empower and encourage girls and young women to consider careers in the ICT field.
By providing donations, training and support to ICT driven programs, Vodacom Business Nigeria is accelerating the removal of barriers for girls and women in the ICT industry.
In fulfilment of goal five of its Sustainable Development Goals, Vodacom Business has created various empowerment programs such as the Women in Leadership Programme aimed at creating leadership and personal capacity in women across all employee levels; the #ConnectedSheCan campaign, a socially driven campaign aimed at celebrating the accomplishments of women within the Vodacom Business Nigeria workforce; and the youth empowerment program, the 'Power to You' project under the umbrella of which the Girls in ICT Day is activated, to enable both girls and technology companies to reap the benefits of greater female participation in the ICT sector.