By Chris Ochayi
ABUJA—The Federal Government, yesterday, expressed excitement over the impressive performance of Yola Distribution Company, DISCO.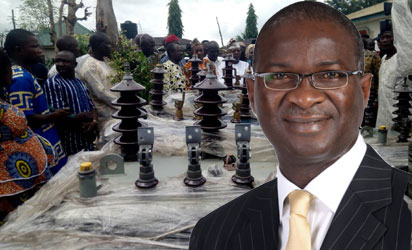 According to him, the company has remained prosperous, despite its rating as an unviable entity by investors.
Minister of Works, Power and Housing, Mr. Babatunde Fashola, who disclosed this during the 27th  monthly  power  sector  operators  meeting hosted by Yola Distribution Company in Adamawa State, said, the story of Yola DISCO epitomized change.
However, Fashola assured electricity consumers in the country of better days of increased power supply as the rains will bring more water supply to hydro electric facilities.
He reminded the operators to be alerted of imminent disaster normally occasioned during rainfall.
Fashola said:  "They will bring more challenges to transmission and distribution by way of storms, heavy winds, falling trees, damage to towers, lines and installations.
"Many of you will remember that in 2015, Yola DISCO was the only one of the 11 privatized DISCOs that was given up as being unviable.
"But this government did not give up on Yola DISCO. The government appointed Mustapha to manage this DISCO. The progress we are making will require us to increase our commitment to further improving service.
"This will be more demanding as the rains come down in the next few months.  We must rise up to these challenges better than we have done in the past."
"Month after month, from reports we have all received about performance and monthly rating of DISCOs, it is obvious that Engr. Mustapha and his team have proven that Yola DISCO is not unviable.
"At this forum, I will repeat what I have said about change, that it is not a matter of chance but a matter of choice.
''Similarly, it is not an event but a process that involves the application of methods and the making of choices, some of which are difficult, but very often resourceful, even if sometimes misunderstood.
"The story of Yola DISCO epitomizes change and it speaks eloquently to our roadmap of incremental power.
"From my very first visit to inspect the resumption of work at the Maiduguri TCN substation, which had been damaged by insurgents, to the completion of the Mayo-Belwa TCN substation and the installation of distribution infrastructure by Yola Disco, incremental power is returning to the customers within the Yola DISCO franchise."
He said 80 percent of damaged 33KV lines had been restored in areas such as Damboa, Madagali, Maiduguri, Damasak, Gombi, Mubi, Wukari to mention a few.
"Change means providing incremental power against the odds, and nothing is truer than the story of one Agricultural enterprise in Adamawa, whose proprietor visited to tell me that since the completion of the Mayo-Belwa sub-station, he has drastically reduced his purchase of diesel and the use of his generator.
"For him, change means reduced operating cost at his farm, and for consumers of his Agro products, change means reduced food prices.  "As you will have heard in the news, economists are predicting a further reduction in inflation and they are attributing it to reduction in food inflation and food prices.
"While we are inspired by the news of progress, especially coming from those who receive the service, we remain mindful of those we have not yet reached, and remain committed to get to them, whether on the grid or off the grid.
''On some progress made within the last month, he said, "I am pleased to inform the meeting formally that a substantive Chairman, in the person of Professor James Momoh, is now in place for the NERC, following confirmation by the Senate, and his swearing in on the 3rd day of May 2018.
"This means that another issue under our Power Sector Recovery Programme, PSRP, relating to Governance, has now been resolved.
"The progress we are making will require us to increase our commitment to further improving service.  This will be more demanding as the rains come down in the next few months.
"The rains will bring more water supply to the hydro electric facilities, and they will bring more challenges to Transmission and Distribution by way of storms, heavy winds, falling trees, damage to towers, lines and installations.  We must rise up to these challenges better than we have done in the past."