University of Nigeria, Nsukka (UNN) says it established Directorate of Strategic Contact, Ethics and Communications to maintain ethical conducts in its graduates.
The Registrar of the institution, Mr Chris Igbokwe, said this in Enugu on Wednesday at the annual debate of UNN Law Students Association.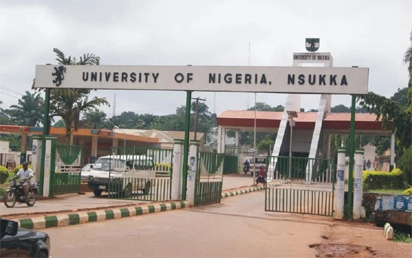 Igbokwe said that the move became necessary to foster strong ethical foundation and human rights awareness among students and future professionals.
The registrar attributed some of the societal malaise including bribery and corruption to failure of some Nigerian universities to entrench ethics and human rights in the academic environment.
He said the institution desired to produce graduates who would be socially responsible and guided by ethical considerations.
He added that it was sad that the economic and political life of the country had been impugned by bribery, corruption and other ills.
He mentioned some of the ethical problems facing institutions of higher learning to include students' prostitution, sexual harassment, cultism, the lack of mentorship and alcoholism.
He noted that the institution was at the forefront of character transformation and entrenchment of core values which were human rights based.
He emphasised that "to maintain these core values among students, the vice chancellor of UNN
established Directorate of Strategic Contact, Ethics and Communications in partnership with an institution in Geneva, Switzerland.
"UNN has strong ethical foundation in line with our motto which is to rector the dignity of man. It is our duty to improve on the ethical conduct of our students."
Igbokwe commended the students for organising the event which was also meant to honour individuals who made their marks in the law profession.
Prof. Osita Ogbu, a Professor of Law and recipient of Excellent Leadership Award, said the event was significant as it was a celebration of intellectualism.
Ogbu, who is the Dean, Faculty of Law, Enugu State University of Science and Technology, said most lawyers had ethical problems which affected the Nigerian bar.
He also complained about some institutions of higher learning in the country, saying "it is
sad that some higher institutions, instead of being grounds to breed intellectuals, become ethnic
enclaves and corrupt settings with all forms of exploitation.
"I, however, commend you for identifying with intellectuals and encourage you to continue to promote intellectualism as that is the whole essence of the university," Ogbu told the law students.
NAN