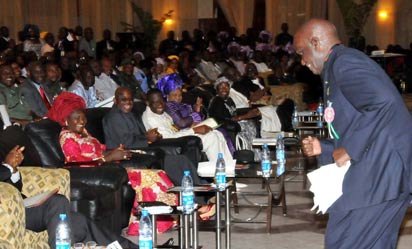 Special rendition by former Zambian President, Kenneth Kauda during a Xmas carol service.Photo Credit: NAN
Lusaka – The Joint UN Programme on HIV/AIDS (UNAIDS) on Friday conferred an award to Zambia's first President Kenneth Kaunda in recognition of his contributions to the fight against HIV/AIDS.

The 2018 UNAIDS Leadership Award, conferred by UNAIDS Executive Director, Michel Sidibe and Zambian President, Edgar Lungu, to the 94-year-old Kaunda held in Lusaka, the country's capital.
The award is given to high-level personalities, who have made outstanding contributions to the AIDS response in the course of their professional and personal life.
Previous recipients include Kofi Anan and Ban Ki-Moon, both former UN secretary-generals.
The UNAIDS chief said Kaunda deserves the award following his immense contribution by being among the first leaders to come out in the open and speak about the epidemic at a time when stigma was high in the 1980s following the death of his son to HIV/AIDS related illnesses.
"Mr Kaunda is well-known for his rejection of complacency, silence and shame with regard to HIV.
"The death of Mr Kaunda's son in 1986 prompted him to take a stand against HIV across Africa and since then has been a fierce advocate for ending HIV-related stigma and discrimination," he said.
He said the former president had shown immense leadership qualities, honesty and integrity in the fight against HIV/AIDS.
He said that Kaunda had demonstrated a strong commitment towards achieving the UNAIDS 90-90-90 target of ensuring that 90 per cent of citizens living with the HIV virus know their status, get treatment and achieve 90 per cent viral suppression by 2020.
On his part, the Zambian leader commended Kaunda for making an exceptional contribution to the fight against HIV/AIDS.
The Zambian leader said Kaunda's significant contribution to help fight stigma has contributed greatly in the management of the epidemic not only in Zambia but elsewhere too.
"We are humbled that UNAIDS chose to bestow this award upon our country's founding president in recognition of his unwavering commitment to the fight against HIV and AIDS in Zambia and the world over," he said.
Kaunda, who becomes the first African to receive the award, dedicated it to people, who have died from the epidemic and those helping to fight it.
Kaunda said HIV/AIDS was one of the world's pressing problems as it has affected many families across the globe and added that concerted efforts were required in order to completely eradicate it.
Since his retirement from politics, Kaunda has dedicated his time to the fight against HIV/AIDS through his Kenneth Kaunda Children of Africa Foundation.
He is also a member of the Zambian Chapter of the Brothers for Life Campaign, a campaign aimed at encouraging men participating in promoting good health.
Also one of the first members to join the Champions for an AIDS-free Generation, a distinguished group of former presidents and influential African leaders providing a unique response to mobiliSe political leadership to deliver on an AIDS-free generation in Africa.
He also composed a song "We shall fight and conquer AIDS" which he sang during his public appearances. (Xinhua/NAN)