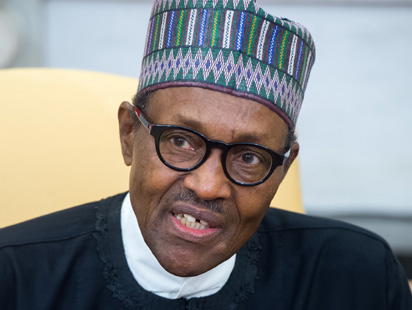 Nigeria's President Muhammadu Buhari
•APC administration in the eyes of Nigerians
By Demola Akinyemi, Perez Brisibe, Anayo Okoli, Gbenga Olarinoye, Samuel Oyadongha, Emmanuel Una, Boluwaji Obahopo, Bashir Bello, Wole Mosadomi, Rotimi Ojomoyela and Yinka Ajayi
On Tuesday, May 29, 2018, the federal administration, led by the All Progressives Congress (APC), will be three years in office. Sunday Vanguard, last week, went to town to get people across the country to assess the President Muhammadu Buhari government, especially on its three main promises when it was sworn-in on May 29, 2015. What the respondents said:
Anti-corruption war on course -Tayo Shadraq, engineer, Ilorin.
We can see that the anti-corruption  fight is truly on unlike what you had under previous administrations. But the truth is that the masses cannot feel the positive effect of government's efforts in this respect.
In the area of security, Nigeria is a very big nation. Government claims to be fighting insurgence, but again the impact has not been felt by the masses. There is no month we don't hear that herdsmen have killed people or Boko Haram has carried out bombings, particularly in the North-East. This is unacceptable.
On the economy, prices of food items and domestic needs keep rising. Government should evolve a policy to bring prices down in order to alleviate the suffering of the masses. Meanwhile, we just heard that government is planning to partner with China in the area of currency swap, if they are serious about it, it will help the economy.
Buhari has done well – Onwuneme, engineer, Umuahia
I believe the President has done well in managing the economy as the gains are now being felt as a result of the rise in our foreign reserves and inflation dropping significantly.
On security, Boko Haram has been degraded and, on the crisis between herders and farmers, the President should act fast before the matter gets worse.
On anti-corruption, though the President means well and has the political will to fight corruption headlong, the challenge is that the people assigned that responsibility are not on the same page with him as can be seen in the fact that there has not been any high profile conviction mostly due to lack of proper investigation and facts gathering by prosecuting agencies.
This  govt. groping in the dark – Enyioha Opara, journalist, Minna
Buhari cannot fulfil his promises on the economy because of his failure on security. Without security, you cannot talk about economy because it is security that will protect the people and give confidence to foreign investors to come to Nigeria to invest. So when there is no security, there won't be good economy.
Security should be high on the agenda of the administration and should be achieved before any other thing. Secure the nation and the economy will flourish but the Buhari administration has failed on the issue of security.
On anti-corruption, it is true that Buhari has been getting baack stolen money but Nigerians have not felt the impact of the recovered money. Every day we hear people being taken to EFCC and ICPC but the question is what have you done with the recovered money? So what I can say in summary is that the government of Buhari is seriously unserious.
The government is groping in the dark because they don't know what is going on and that is why things are not going on well and the administration has failed woefully.
Buhari is a failure on all fronts – Bamidele Salam, legal practitioner and public affairs analyst, Oshogbo
The Buhari administration has not made any significant impact on the lives of Nigerians in the last three years. In the area of security, more Nigerians have been more vulnerable to attacks since Buhari came on board. More Nigerians have lost their jobs while more businesses have been wrecked in the last three years. According to Transparency International, corruption has also been on upswing since this government came on board. It is therefore evident that the Buhari administration has been more of a failure in the three major areas of its manifesto.
Buhari brought chain, not change – Bishop Seun Adeoye, Director of Publicity, World Bishops' Council
When I held a one-man protest over the increase in the price of petrol from N87 to N145 two years ago, I declared that Buhari's government had not brought change to Nigerians but had actually brought chain. I was not really wrong. We are indeed in chain because his government has created more poverty than wealth. Under this government, prices of food items and services have gone up astronomically while wages remain static. We read of the debilitating debt profiles and the exchange rate has not smiled on anyone. So, on economy, Buhari failed. On security, this country has lost more souls to terrorists and Fulani herdsmen attacks under Buhari alone than it did during the civil war. Are we secure under Buhari? No! His anti-corruption fight is laughable. By the time Buhari ends his tenure and books are checked, his administration would have broken the record of the most corrupt regime in Nigeria. I can bet that.
Nigeria is flowing with blood, instead of milk and honey – Yinka Omoola, journalist, Lokoja
Anti-corruption fight is selective, the score on security is F9 and there is nothing to write home about on the economy. He promised a robust economy, improve security and fight corruption to a standstill, but, three years down the line, he has not been able to achieve any of it apart from blaming his predecessors. Nigeria, instead of flowing with milk and honey, is now flowing with blood. The number of people killed during Buhari is more than the number killed during the civil war.
No genuine anti-corruption fight – Rotimi Odofin, civil servant, Lokoja
In anti-corruption, Buhari is just fighting the opposition. There is no genuine anti-corruption fight. The government has also created more insecurity in the country and performed woefully on the economy. Buhari is a disaster. He is the greatest mistake Nigeria has ever made.
Buhari administration is work in progress – Idris Miliki, human rights activist
On the economy, Buhari needs to do lot more; that does not mean progress has not been made. On corruption, he has achieved more than any government in Nigeria, it's not easy to fight corruption. For the fact that a lot happened in the past and so much stolen money has been recovered and there is the fear to steal government money is commendable. Meanwhile security is everyone's business, and if compared to where we were before he took over and now, there is progress. However a new dimension has emerged, the killings by herdsmen are worrisome particularly when the killers have not been brought to justice. But the Buhari administration is work in progress in all ramifications.
You cannot accuse Buhari of not making progress on anti-corruption – Senator Abba Ali, Katsina
Nobody can accuse Buhari of not making progress in the fight against corruption.
They (Jonathan administration) designed the TSA but because they knew it will not work in their favour, they refused to operate it. Buhari strengthened it and it is working.
BVN, it was during Obasanjo's time that they decided to do it but didn't do it. Buhari said we should do it in the best interest of the nation. Again, you can see the probe into the $16bn power project under former President Olusegun Obasanjo.
And on the fight against insurgency, we have seen what is happening in Afghanistan, Pakistan and so on; you cannot fight it in two years.
But the way Buhari crushed Boko Haram is commendable. In fact, Britain and America have been sending their military officials to come and discuss with our leaders on how they were able to do it. Look at the North-East, in Borno alone, over 17 local governments were under Boko Haram and, within a year, Buhari was able to dislodge them.
People are hungry, struggling to feed – Alhaji Lawal Saidu Funtua, Chairman, Journalists for Accountability and Good Governance Initiative, JAGGI, Katsina
Most of the fight against corruption is media trial and media hype; no conviction to serve as deterrent. And because there is no conviction, people will go back to their old ways.
Also a committee report, according to newspaper reports, said the President's fight against corruption is stalled by bottlenecks such as reliance on documentary evidence, multiplicity of charges, lack of adherence to court rules and procedures, indiscriminate transfer of judges and prosecutors not trained.
The economy is bad under the present administration.
As a common man, if you say economy is growing, I should see food on my table. Economy is beyond Naira and Kobo. You see people hungry, struggling to feed; there is fear of sickness; people struggle to get water and electricity. Where all the indices on health, education, water resources and employment are negative, it means the economy is bad.
In fact, the criminal activities you see almost everywhere is as a result of bad economy; because people are losing their means of livelihood, certainly they will devise a means of survival. For instance, kidnapping is a big industry.
The issue of insecurity is clear. There are pockets of killings almost every day. We can commend him on the fight against insurgency because, to a large extent, he has curtailed that but the issue of other gangs is still present and obvious.
Buhari needs to up his game – Eyengho Samuel Besidone, Asaba.
On the economy, there is tremendous growth in productivity in all ramifications. The government has achieved a great deal in moving out of recession.
One must commend the President on security as it is on perspective and as such tends to project a very negative image for government. Invariably, it is perceived to be a selective tactic where the security situation across the South is improving and a very disheartening situation across the North.
On anti-corruption, government needs to step up her game as corruption seems to be fighting back due to a weak system across board.