Katsina – The Director, Planning, Research and Statistics, Katsina State Ministry of Education, Alhaji Kabir Ruma, says the 2017/2018 Annual Schools Census (ASC) indicates that the student-teacher ratio is 75:1 in the state's public primary schools.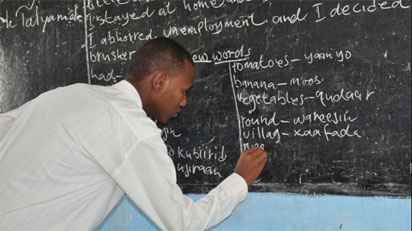 Ruma disclosed this on Wednesday during a paper presentation on the status of implementation of Girls Education Project 3 (GEP3) in Katsina, when the UNICEF Chief of Education, Mr Terry Durnnian, visited the state.
He said that the student-teacher ratio in Junior Secondary Schools stood at 68:1, while that of the Senior Secondary Schools was 46:1.
He said the data also showed that the state had a total enrollment of 1,604,423 primary school students; 271,690 Junior Secondary School Students and 169,694 Senior Secondary School students.
The director also said that the state had 21,468 primary school teachers; 3,997 Junior Secondary School teachers and 3,694 Senior Secondary School teachers.
He said that the total number of qualified primary school teachers was 72 per cent; Junior Secondary School 81 per cent and Senior Secondary Schools 81 per cent.
He said that the average number of students per class in primary schools stood at 120 students; 75 in Junior Secondary Schools and 59 in Senior Secondary Schools.
Ruma said that the State Government had dedicated 20 per cent of its 2018 budget to improvement of education during the period under review.
He said the major challenges in the sector included poor quality of teachers and "students learning achievements".
Other challenges, he said, were inadequate facilities such as classrooms, toilets and water points, as well as delay in the release of budgetary allocation for education projects.
The director, therefore, urged the state government and development partners to intensify efforts in teacher training and retraining to enhance their capacity.
He also urged the government to give priority to schools with highest demand of such teaching facilities with a view to enhancing teaching and learning.(NAN)