The Action Democratic Party (ADP) governorship flag bearer Otunba Segun Adewale, has condemned the Governor Ayodele Fayose's led People's Democratic Party (PDP) government for allegedly treating Ekiti people as destitute.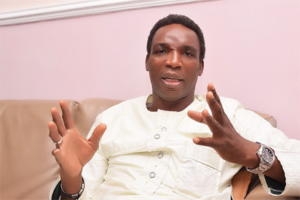 He said it was 'wicked' for Fayose to be owing workers and pensioners arrears of benefits while he (Fayose) and his aides collect their allowances up to date.
Speaking while on a campaign tour to Omuo-Ekiti in Ekiti East Local  Government, Adewale promised to invest in human capital development by training 15,000 youths every year in skills acquisition and vocations and give them  soft loans to establish their businesses.
This, according to him, would enable them to cater for their parents without having to wait for government to give them one cup of rice and beans as currently being practiced by the government of the day.
Adewale equally pledged to tackle electricity problems regretting the fact that some communities in the state have been in total darkness for four years without any effort by the government to solve the problem. Poor power supply, according to him, will drive investors away from Ekiti noting that regular adding that he made projections on how to invest about $3m to generate 10 megawatts (Off grid) in each of the three senatorial districts in the state in partnership with the private sector.
Adewale said: "Ekiti does not need a government that will treat people like they are destitute by giving them handouts and Christmas clothes but a government that will help the people achieve their God given potentials by giving them the opportunity.
"He said teachers and pensioners should not be owed any kobo as is the case presently and that, rather for work to be incentivized, the workers are being discouraged.
Describing himself as "the best man to fix Ekiti State and bring it out of the economic doldrums," Adewale stressed that the state needs the urgent intervention of a visionary leader in so many areas.