By Osa Amadi, Arts Editor
Finally the Association of Nigerian Authors, ANA, led by Nobel Laureate, Professor Wole Soyinka has waded into the on-going carnage perpetrated by Fulani herdsmen across Nigeria. Last Thursday, May 24, 2018, the country's highest literary body visited Governor Samuel Ortom of Benue State in Makurdi  days after two Catholic Priests and 17 parishioners suspected to have been killed by  herdsmen were laid to rest. At the visit, Professor Wole Soyinka and ANA members called on the International Community to intervene in the incessant herdsmen killings across the country to avoid a repeat of the Rwanda genocide in Nigeria. They also called on government to provide military responses to halt the killings which they described as ongoing ethnic cleansing in some parts of the country. "The Federal Government is treating the killings like a malignant tumour with vaseline…. We call for a quick military response, backed by the international community which can effectively end the herdsmen menace across the country," they said. Before ANA's intervention last Thursday, retired military Generals, Socio-cultural associations, Christian religious bodies, activists, elder statesmen, etc., have consistently accused the Nigerian Army, Police, and the President of complicity in the massacre of largest number of Nigerians since after the Civil War. Here is a review of the struggle and the interpretations given to the carnage: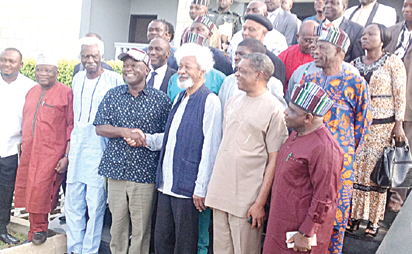 Background
Humans have come a long way on planet earth in the struggle for survival. Having been millions of years since he won the struggle with dangerous beasts like lions, dinosaurs and snakes which threatened to exterminate him, man has probably forgotten that primordial battle which proved that humans are configured for preservation and survival, even in the face of the worst form of threat to their lives.
Apart from struggles for survival with wild animals and subsequent victory, man had also engaged in battles with other humans with predatory behaviours – whether in the garb of primitive cannibalism or modern dictatorships like Hitler, Mussolini, Idi Amin, Muammar Gaddafi and other carnivorous regimes and ideologies across the world. Man has survived them all because he has an inbuilt mechanism to emerge victorious in the face of every threat to his existence.
From all indications, such dangerous, carnivorous and predatory beasts are on the prowl now in Nigeria, cutting people into pieces with all types of weapons including sophisticated AK-47. Initially, they were identified as Fulani herdsmen. Later, some people succeeded, by some dint of hard work, in persuading the media to delete the word "Fulani" leaving just "herdsmen" as the culprits.  Whatever may be the name, while some military experts and victims of these predators have no doubt that they are instruments of Islamists on a stealthy jihad mission helped by the Nigerian securitry forces, others like Association of Nigeria Authors led by Professor Wole Soyinka believe that what Nigeria is experiencing now is ethnic cleansing.
 National Christian Elders Forum
On Sunday, March 25, 2018, Vanguard Newspaper which has been following the concerns of The National Christian Elders Forum, NCEF, over what it had continued to describe as the launch of stealth jihad in Nigeria by Islamists, in a report titled Genesis of terrorism in Nigeria, by Christian Elders once again drew attention to a number of hair-raising issues regarding the spate of killings by Fulani herdsmen across Nigeria.
The NCEF, in a statement signed by its secretary, Pastor Bosun Emmanuel, said: "The list is growing every day, even as the river of blood threatens to keep flowing – Southern   Kaduna, Dogo Nahawa, Agatu, Nimbo, Aba, Wukari, Wase, Jos, Chibok, Gworza, Biu, Madagali, Michika, Dapchi, Maiduguri, Damaturu, Madalla, Baga, Bama, Yola, etc."
The NCEF paper draws a line between Islam and Islamism. While Islam is a religion, Islamism is a political ideology aimed at dominating society. Islamism in Nigeria, says the paper, is compounded by the idea of ethnic superiority by the North, a legacy of British neo-colonialists. This Northern ethnic group does not only believe that it has inalienable right to dominate the politics of Nigeria, but also to determine who should live or die. For this reason, this ethnic group has "embarked on a Jihad designed to exterminate all non-Islamists in the country. This Jihad affects not only Christians and traditionalists, but also moderate Muslims who are not Islamists of this ethnic stock.
"The Islamists of Northern Nigeria have adopted the tactics of global Islamist Jihadists. "One of the most effective tactics employed by Islamic jihadists throughout the world is to intimidate their opponents into silence. Death threats, murders, acts of mass terrorism and beheadings broadcast over the Internet – all these actions are obviously useful in minimizing resistance to the jihadists' agenda. Nigerians are systematically being cowed into submission to the oppression and domination of the Islamists of Northern Nigeria," the statement added.
Another common feature of the Islamists, according to NCEF, is the concept of Sacred Space in Islam which believes that all land on earth has been given by Allah to Muslims in perpetuity. This is why they erect mosques and Islamic Centers on top of the destroyed sacred places of other faiths as well as move in their own people to occupy the space left by the rightful owners of the land after they have conquered the enemy's territory.
Many Christian elites and leaders of ethnic nationalities, for pecuniary gains, have become victims of "stealth jihad." Quite a number of these elites and leaders, out of greed and covetousness, have become willing tools in the hands of these Islamists, subtly bought over with money and positions in Muslim-dominated federal and state government. In retrospect, the NCEF paper concludes that "the British left a country programmed to break up in which one group out of 389 ethnic nationalities saw itself as the new colonial master."
 Retired Military Generals
That was not the first time the arrival of covert or stealth jihad in Nigeria was being reported. On July 14, 2017, Vanguard had also reported that "retired military generals and other Christian elders under the aegis of National Christian Elders Forum, NCEF, have expressed sadness that Nigeria was drifting towards a needless conflict that could culminate in another war, if not well managed.
Rising from a meeting in Abuja, where it reviewed unfolding events in the country, the NCEF, a group of eminent Christian elders, including Elder Solomon Asemota, Gen. Joshua Dogonyaro (retd), Gen. Zamani Lekwot (retd), Elder Moses Ihonde, Gen. T. Y. Danjuma (retd), Elder Shyngle Wigwe, Dr. Chukwuemeka Ezeife, called on Nigerian leaders to tread softly to avoid a pending implosion.
"As distressing as the situation is, it would appear that many Nigerians are still unaware of the real issues at stake. The NCEF wants Nigerians to be alert and focus on the reality of what is actually occurring in Nigeria. The real problem with the country is that JIHAD has been launched in Nigeria and Islamists that have been interfering in the governance of the country using "Taqiyya" (approved deception) as "Stealth/Civilisation Jihad" and Boko Haram and Fulani herdsmen as violent Jihad are relentless in their pursuit of eradicating democracy in Nigeria…Nigerians want to live together in peace so that they can make progress." It appealed to the Islamists that want to take over Nigeria to leave Nigerians alone to run the nation according to the dreams and aspirations of the founding fathers. Our nation is a democratic nation and it shall remain so," the Christian leaders vowed.
On September 11, 2017, Vanguard, again in an article titled Islamisation: Nigeria on throes of Jihad, Christian elders insist, reported the NCEF's insistence that the Federal Government was planning to Islamize the country through Jihad.
 General Theophilus Danjuma
The National Christian Elders Forum is not peopled by hacks, as some may think. The forum comprises different professionals and former senior army generals such as former Defence Minister, Theophilus Danjuma who, obviously realising the deadly mission of these alleged jihadists, advised Nigerians to defend themselves against the prowling herdsmen: "You must rise to protect yourselves from these people. If you depend on the Armed Forces to protect you, you will all die," Danjuma said on March 24, 2018 at the maiden convocation ceremony of Taraba State University in Jalingo, Taraba State capital.
"These killers have been protected by the military, they cover them and you must be watchful to guide and protect yourselves because you have no other place to go…this ethnic cleansing must stop now, otherwise, Somalia will be a child's play. I ask all of you to be on the alert and defend your country, defend your state," Danjuma said.
General Theophilus Danjuma, unfortunately in that statement, did not reveal any new thing Nigerians did not know before. What was remarkable is the courage the retired general, regarded as establishment man, displayed in calling a spade a spade, even though many people say Danjuma's cry of wolf came late.
The most worrisome aspect of this whole imbroglio is the involvement of the Federal Government of Nigeria, its army and police. The threat of Islamists using Fulani herdsmen and stealth jihad to dominate the entire country is dangerous enough. For the Federal Government, the army and the police that should be on the side of defenseless Nigerians to submit these public institutions as tools of stealth jihad against the people of Nigeria is more than anyone can contain.
When Mr. Bitrus Kaze, a former member representing Jos South/Jos East in the House of Representatives urged "all men of goodwill to celebrate a reputable figure of national conscience, Gen T.Y Danjuma, who has exposed the complicit roles of armed forces in the anti-terrorism war," the question to ask is how Nigerians, who have become one of the worst endangered species in the world, can celebrate in this mess.
Bitrus, however, raised a valid point by warning Nigerians to be "wary of supremacists like IG Ibrahim Idris who instead of disarming killer Fulani herdsmen is bent on seizing licensed Dane Guns from members of the public who are victims." All manner of Joint Security Taskforces that litter the country, Kaze said, are conduits for depleting public purse since Nigerians are being killed near their barracks and bases.
The Army's denial of its complicity in this grand scheme to Islamize Nigeria using the twin tools of herdsmen attack and stealth jihad was unconvincing. Neither could anyone believe that the Nigerian Army is neutral in the herdsmen/farmers' crisis as it claimed. The tale of neutrality was a hard sell to Nigerians as it was to Governor Ayo Fayose of Ekiti State; Senator Shehu Sani; former Minister of Steel, Paul Unongo; the Yoruba socio-political and cultural group, Afenifere; the Indigenous People of Biafra, IPOB; Movement for the Actualisation of the Sovereign state of Biafra, MASSOB; and Ohanaeze Youth Council, among others, who had all rallied round Gen T.Y Danjuma and his ground-breaking disclosure.
As Senator Shehu Sani tweeted, "you can't claim to know Buhari more than Danjuma does. You can't claim to know Danjuma more than Buhari does. You can't lecture Buhari and Danjuma about war and peace. Buhari has heard Danjuma's radio message and I believe he has decoded the message. The nation is tip-toeing through a minefield. The two generals are experienced enough to know that the fate of Nigeria lies in every of the step."
 Ayo Adebanjo points at Buhari
Nor was the vocal Yoruba leader, Chief Ayo Adebanjo, fooled by the Army's denial. "I'm happy Danjuma has spoken out. It's not only the military aiding and abetting herdsmen, I think President Muhammadu Buhari is guilty of the same charge. "If the military and the President are not guilty, there are things to be done…. The Fulanis do not only want to rule, they also want to dominate. So, I support Danjuma's statement 100 per cent and praise him for not keeping quiet."
Mr. Yinka Odumakin, Afenifere's spokesperson and Rights activist, Chief Rita Lori-Ogbebor, had all submitted that for somebody like Danjuma, who is not known to talk carelessly like other politicians to warn us, it means that the situation is very worrisome. "This government should wake up because if it fails to do so, Nigeria will find itself in a precipice. When someone like Danjuma starts speaking like that, it shows that there is danger."
T.Y Danjuma is not the only retired military general in Nigeria. Others, no doubt, must have observed what is going on. The opposition party, PDP, in a statement issued by its spokesperson, Kola Ologbondiyan, drew attention to the fact that "former Presidents Olusegun Obasanjo and Ibrahim Babangida, both former military leaders, army generals and patriots, had earlier raised the issue of un-abating bloodletting and pogrom in our country under the APC and the Buhari Presidency…. This pronouncement, coming from a former Chief of Army Staff and former Defence minister (T.Y. Danjuma) is weighty and directly reflects the ugly situation in the country under the APC."
The issue of ongoing stealth jihad in Nigeria raised by NCEF expectedly generated a great deal of debate among some Nigerian Muslim leaders. Expectedly, too, the Muslim leaders denied the reality of an ongoing Jihad in Nigeria, engaging in what it called "clarification of certain misconceptions in the interest of peace and development of Nigeria."
MUSWEN faults NCEF's claims
On July 28, 2017, Vanguard reported that South-West Muslim leaders under the aegis of Muslim Ummah of South-West Nigeria, MUSWEN, faulted the pronouncement by the National Christian Elders' Forum, NCEF, that Muslims in the country are gearing up to launch "stealth/civilization jihad and violent jihad" towards imposing Sharia ideology on Nigerians.
Membership of MUSWEN includes the former World Court judge in the Hague, Prince Bola Ajibola and Deputy President of Nigeria Supreme Council for Islamic Affairs, Chief Zakariyah Babalola. MUSWEN described as worrisome the recent assemblage of retired Christian army generals, including, General Theophilus Danjuma, at a meeting in Abuja, where it accused the group of using the dreaded Boko Haram group and murderous herdsmen, to Islamize Nigeria.
In fairness, however, NCEF have always made distinctions between the peaceful Muslims that live peacefully with other non-Muslims in the South-West and parts of Middle Belt, and Islamists who are on mission to Islamize Nigeria through stealth jihad as are being presently witnessed in the slaughter of Nigerians everyday by Fulani herdsmen while President Buhari, the Federal Government, the Army and the Police stand by and watch.
But the NCEF was not moved by such theories of clarifications and misconceptions. On September 6, 2017, the Forum was compelled to defend its earlier release in July last year through a fresh statement titled Jihad in Nigeria: Burying the head in sand, signed by NCEF chairman, Mr. Solomon Asemota, SAN. The new release challenged Muslim leaders denying the existence of a jihad in the country to also clarify certain pronouncements over the issue, including declaration by Boko Haram leader, Abubakar Shekau, in one of his video messages in 2012 that the war Boko Haram is prosecuting "is between Muslims and unbelievers (arna). It will stop when Islamic religion is the determinant in governance in Nigeria or, in the alternative, when all fighters are annihilated and no one is left to continue the fight. "I warn all Muslims at this juncture that any Muslim who assists an unbeliever in this war should consider himself an unbeliever and should consider himself dead." If this statement is not a declaration of Jihad, queried NCEF, could Muslim leaders explain what it means?
And now, in the midst of all these, revelations are emerging that the APC-led Federal Government, the Army, and the Nigeria Police are helping Boko Haram and Fulani herdsmen in their war against the people of Nigeria.
President Buhari, on Friday 23 March, 2018, while receiving 105 Dapchi girls released by Boko-Haram, said: "May I also warn those elements who have chosen to make political fortunes of our citizens' misfortune, government would not tolerate any attempt by any person or group to trivialize or politicize security issues for politically-motivated ends. Accordingly, security agencies would not hesitate to decisively deal with such unscrupulous characters."
But former Minister of Aviation, Chief Femi Fani-Kayode in a statement before Buhari's warning, had countered suggestions that the words of NCEF and T.Y Danjuma are capable of setting Nigeria on fire. Chief Fani-Kayode said it is "those that kill Christians and practice stealth jihad that will set Nigeria on fire and not Asemota, T.Y. Danjuma and the Christian elders. I commend the Elder Solomon Asemota (SAN) and Gen. T.Y. Danjuma-led Christian Elders Forum for warning the Buhari government to stop attempting to Islamize Nigeria and I wholeheartedly endorse their position…Their concerns are legitimate, their observations are pertinent and their counsel is wise. They have spoken the minds of over 90 million Nigerian Christians. 'These are the voices of restraint and reason and it is in the interest of the Federal Government to listen to them carefully, to consider their concerns and to take their admonitions very seriously if they want peace and unity in our country. Anything short of that will be unacceptable, lead to greater division, and have devastating and long-term consequences for the future of our country."
Come to think of President Buhari's statement about dealing with those "who politicize security issues"; one cannot but ask whether the president's statement was a threat or admonition. Are Nigerians being 'stealthily' commanded by President Buhari to be quiet in the face of being killed and dispossessed of their lands by Boko Haram and Fulani herdsmen? Is the President's threat part of the scheme to 'systematically cow Nigerians into submission to the oppression and domination of the Islamists of Northern Nigeria'?
Later, the Afenifere, on March 27, 2018, described Danjuma's allegation as weighty and damming. Afenifere's National Publicity Secretary, Yinka Odumakin, who addressed newsmen after the body met, said: "The meeting noticed the recent comments on ethnic cleansing across the country and the complicity of the armed forces by General Theophilus Danjuma. Danjuma should be taken seriously because as former Chief of Army Staff and Defence Minister, he knows and has a deep knowledge of the military and could not have spoken in vain.
"The military, in responding to Danjuma's allegations, claimed they are neutral in the one sided killing that is going on in Nigeria when those, who should enforce the law and ensure that the killing is stopped and killers are arrested, claimed neutrality when Nigerians are being slaughtered in droves. This is the greatest admission of the fact that there is a state-aided genocide going on in Nigeria….We demand, from Nigerian authorities, the immediate disarmament of the exclusive terror machine in the hands of herdsmen and the reorganisation of the architecture of security of Nigeria to reflect federal character. We ask the United Nations Special Rapporteur on genocide to investigate what is going on in Nigeria. If this disaster unfolds into full scale war, the international community would have a deep problem on its hands."
Similarly, Igbo leaders also applauded the statement by the former Minister of Defence, Lt. General Theophilus Danjuma, saying the Armed Forces have failed to protect the country from the aggressions of the herdsmen. The leadership of the Armed Forces as presently constituted, Igbo leaders said, would never protect majority of Nigerians against the atrocities of the herdsmen.
 Ohanaeze Ndigbo, IYM, ILT react
The Ohanaeze Ndigbo said it had earlier cried out against the directive by the Inspector- General of Police, IGP, Alhaji Ibrahim Idris, asking the people to return their legally acquired arms to the police, observing that it was another way of paving way for the Fulani herdsmen to overrun the whole country.
Also, in his reaction, the Founder of Igbo Youth Movement, IYM, and Deputy Secretary of Igbo Leaders of Thought, ILT, Evangelist Elliot Ugochukwu Uko, said: "Danjuma's call on Nigerians to defend themselves came very late," adding that "it is something he should have said since the advent of this administration." His words: "We are watching. The only thing new is that Danjuma has confirmed what everybody has suspected about the military which is that they have been protecting the killer herdsmen.
Also, the Eastern Consultative Assembly, ECA, welcomed the call for arms by Lt. Gen Danjuma that Nigerians should defend themselves against ethnic cleansing by Fulani herdsmen across the country.
Deputy Chairperson of Eastern Consultative Assembly, ECA, Chief Mrs. Maria Okwor, faulted the order by the IGP that Nigerians should surrender their private guns to the police. "We have always doubted the ability of the Nigerian Armed Forces to protect innocent Nigerians from the Fulani herdsmen attackers. I find it disturbing that the police high command would ask Nigerians to surrender their arms at this time when there is ethnic cleansing going on. Any Nigerian who surrenders his legally acquired gun to the police is a fool. Nigerians should even buy more guns so that they can defend themselves. We are wondering what the former Head of State, Gen. Yakubu Gowon and same Danjuma would be thinking now, about their roles in the Nigerian Civil War. A drastic situation requires drastic action. I support what Danjuma said," Okwor said.
From Taraba State, one of the hotspots of the Fulani herdsmen killings, Chairman, Takum Local Council of Taraba State, Shiban Tikari, said General Danjuma's call has vindicated the people of Takum, who had earlier cried out that the Exercise Ayem A'Kpatena was out to give cover to the killer herdsmen. Some residents of Takum and Ussa local councils and Yanghtu Special Development Areas in Taraba, had accused the Army operatives of Exercise Ayem A 'Kpatuma (Cat Race) of brutality, bias and complicity in their handling of the security situation in their areas.
Shiban Tikari, who led the condemnation of the Army operation in the area, told journalists that he had received series of complaints from his people that soldiers were molesting and brutalizing them.
Things got to a head recently, forcing the Vanguard Newspaper to officially speak out through its editorial of March 23, 2018 titled: As herdsmen turn "landlords" in Delta State:
"UNBELIEVABLE! That was the reactions of most Nigerians when Governor Ifeanyi Okowa of Delta State recently told the Assistant Inspector-General of Police for Zone 5, Mr. Rasheed Akintunde, that owners of farmlands in Uwheru, Ughelli North Local Government Area, now pay "protection fees" to armed herdsmen before they can enter their farms. No one ever believed that the time would come when stranger-elements alien to Nigeria would forcefully seize the farmlands of indigenous peoples and subject them to slavery in their own ancestral communities while the Police and security agencies charged with the protection of lives and property pretend not to notice.
Despite various efforts by Governor Okowa to promote peaceful coexistence, these armed herders have seized the farmlands and highways of the state, killing, maiming, kidnapping, raping, robbing and now extorting money from helpless farmers.
It is becoming abundantly clear that there is more to the mission of these herdsmen than what we have known pastoralists for down the ages. Those who accuse the armed militias masquerading as "herdsmen" of nursing territorial ambitions can easily find justification in the seizure of peoples' ancestral lands by these invaders who now extort helpless citizens before they can eke out a living on their own lands. This gross violation of the rights and liberties of the ordinary, peace-loving Nigerians has to stop. Enough is enough!"