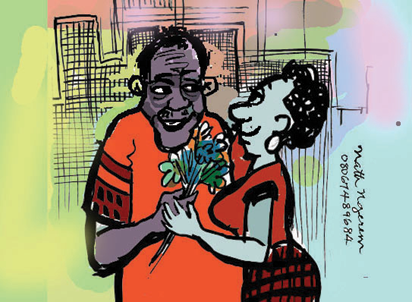 love
JULIUS, an only son, has always been protected by his mother. "After three daughters, it stands to reason that Julius might not be as boisterous as your average tearaway son," Franka, his 56-year-old mother said. "Julius was very quiet as a child. He only came out of his shell when Onome, his dad, started taking him for boxing lessons when he was 12. I was very much against it at first but I have to admit it did his confidence a world of good – and helped him with some bullying that was going on at school.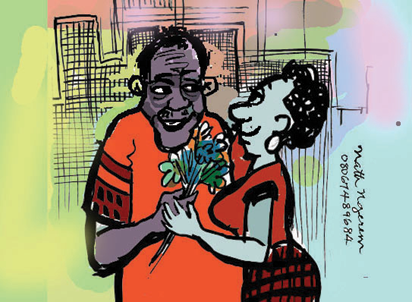 "My son is a lovely lad, always helpful around the house. It's been nice to see him grow up into a decent young man. He's really quite innocent for a boy his age and he doesn't go out much like the other kids but he's got a few friends, and that seems enough for him. His dad, on the other hand, has always been a bit of a loud-mouth. He's never happier than when he's got a beer in his hands and a crowd of hangers-on to impress with his smutty jokes at the club.
"As much as he loves the three daughters we had before .Julius, his son has always been the apple of his eye. So when he turned 21 and his dad offered to take him for a night out at his club, I was a bit apprehensive. I didn't particularly like the rowdy men Onome hung around with, but he stood his grounds at my protest. 'You've got to cut the poor boy loose or he'll forever be a mama's boy,' he sneered. So I relented. As expected, the two of them came home in the early hours, drunk and crashing around. I could hear my husband laughing and yelling at something whilst Julius just grunted.
"The next day, Julius stayed in bed all morning, being a Saturday and as I peeped in to find out if he wanted breakfast,  he seemed really out of sorts. In the evening, he managed to find his way to the living room where I was watching the TV. 'Mum, can I ask you something?' he said tentatively. 'Of course,' I replied. 'What's up?' He sat down next to me on the settle. 'Was Dad your first ever … you know the first man you … ' I finally twigged what he was trying 5to ask me.  `Oh, I see  As a matter of fact, he wasn't. But why do you ask?'
"He looked thoughtful for a moment then said: 'But don't you always fall in love with the first person you, e r, do it with?' I realised we'd never really had a proper talk about sex and that kind of thing. What with him being so shy, it had never seemed right somehow. 'Is there something you want to tell me? 1 asked him, trying my hardest not to put him off. 'You know you can talk to me about anything, don't you?' 1 was expecting him to say there was a girl at university he liked, or maybe even that he'd gone and lost his virginity. But nothing could have prepared me for what he said next.
"Not quite making eye contact, he said: 'When we went out last night, after the pub, Dad said we were going to a party. He took me to a place not far from the club and there were loads of girls there. There was this pretty girl that I got on really well with and we went into one of the rooms and, you know … Well, we had sex and she was very helpful when she realised it was my first time. The thing is, I think I've fallen for her and might want to take our relationship a step further.'
"I was dumbfounded. All 1 could say was, 'Please tell me you used a condom.' 'I did mum, the girl insisted I should. She even made me have~shower before we did it.' She must be a high-class prostitute, I thought. 'Did your father go with one of these girls?' I asked, not sure if 1 wanted the answer. 'No, I don't think so,' he said. 'What do you think I should do, mum? Should I go back and see her? 1 don't want her to feel used  …"
I was really furious at this time. 'No way, there's no point in going back.' 1 wanted to tell him his dad must have already paid for services rendered when Onome came in. As he looked at the pair of us, 1 exploded before he could say a word. 'A prostitute?! You took our son to a prostitute?! What on earth were you thinking?' he tried to argue, telling me Julius was too shy for a 21-year-old, that he needed encouraging. 1 was having none of it. 'Don't you dare try to blame our son for your disgusting mind!' 1 yelled at him. 'How did you know that place was there? Are you a regular customer?' 'Don't be ridiculous,' he snapped, but to me the ridiculous thing was taking our son to one of these women!
For months I couldn't get the incident out of my mind. Onome hadn't even given his son a proper gift for his birthday. What he'd actually done was stolen my boy's innocence. Your first time is supposed to be lovely, not grubby. It drove a wedge between us that took a long time to heal. Julius is out of the university now and working. But he's really disillusioned with his dad – and bitter that his own father put him through that and all the emotional trauma that went with it. Poor thing! He thought that the girl his dad took him to was a sweet innocent girl he could fall in love with. He didn't know she'd already been paid for services rendered!'