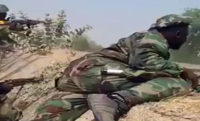 soldiers
A female soldier, Cpl. Vivien Ogbuah of 3 Div Garrison, Jos, has emerged the best live firer at the 2018 Annual Inter-Brigade Competition organised by 3 Div. NA, Rukuba, Jos.
The four-day competiti0n held in Jos, which ended on Thursday, was for soldiers from the ranks of corporal and below.
It drew participants from four military formations – 33 Artillery Brigade, Bauchi, 53 Signal Brigade, 3 Div Garrison and 43 Engineers Brigade, all based in Jos.
Ogbuah, who emerged the best shooter at the end of the competition, also clinched the prize for live firing in the female category.
She also emerged the best female soldier in the stripping and assembling of weapons competitions.
Newsmen report that participants competed on military skills like drilling, map reading, weapon handling, live firing, fitness race and obstacle crossing.
Newsmen report that the 3 Div Garrison emerged overall winner, while 43 Engineers and 53 Signal Brigades emerged second and third respectively.
Speaking at the closing ceremony, Maj. Gen Benjamin Ahanotu, the General Officer Commanding (GOC), 3 Div Headquarters, Nigerian Army, commended the participants for their conduct, discipline and sportsmanship.
The GOC, who was represented by Brig Gen Aliyu Abdullahi, the Chief of Staff of the Division Headquarters, expressed happiness that no incident of foul play was recorded during the competition.
"It was really gratifying to note that no one sought to cheat; it was good to see that the soldiers preferred to loose gallantly instead of cutting corners," he said.
He urged the participating formations to maintain such conduct throughout their military careers, and challenged those who performed poorly to put in more effort to win subsequent competitions.
In his remarks, Brig. Gen. Abubakar Ibrahim, Commandant, 3 Div Garrison, commended the different departments at the 3 Div Headquarters, NA, for the success of the event.
NAN