By Udeme Akpan
Shell Nigeria Gas, SNG has supplied gas to 90 industries in order to reduce gas flaring and enhance industrialisation in Nigeria.
The Country chair of Shell companies in Nigeria and Managing Director of The Shell Petroleum Development Company of Nigeria Limited,  Mr. Osagie Okunbor said that: ''SNG currently supplies natural gas to 90 industrial and commercial customers in the states where it operates, driving industrialisation and its positive chain effects in addition to direct internal generated revenues in these states.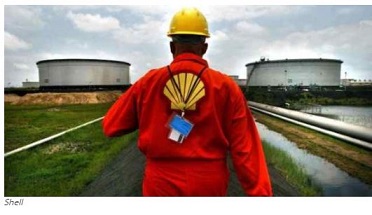 ''These benefits have led Bayelsa, Lagos and Ondo States to express interest for SNG to expand its distribution network into their states. In 2017, SNG distributed an average of 41 MMscf/d of natural gas compared to 33 MMscf/d in 2016 to industries and factories in Ogun, Abia, and Rivers States of Nigeria.
''The higher supply volume in 2017 representing a 32% increase over gas sales in 2016 was due to an increase in new customers and less gas supply disruptions.
''Among its customers are four compressed natural gas companies that make the gas available to other companies outside the SNG pipeline network. SNG staff is 100% Nigerian and the company is the only gas distribution company in Nigeria whose facility is ISO 14001 Certified.
''In 2017, SNG signed an agreement with an indigenous company, Shoreline Energy, to explore opportunities to market and distribute natural gas to wholesale and retail customers in Victoria Island, Ikoyi, Lekki and Epe areas of Lagos.''
He said that: ''SNG will help finance and develop a transmission and distribution network from a 20-year gas concession, originally owned by Gasland Company, in which Shoreline took a 75% interest in 2005. The gas will be transmitted through the Escravos Lagos Pipeline System from various producers in the western Niger Delta.
''At the end of 2017, SNG executed a Memorandum of Understanding with the Rivers State Government for the distribution of gas to industries in the Greater Port Harcourt area and its environs. The agreement is an opportunity to further promote gas as a more reliable, cleaner and cost-effective alternative to liquid fuels in the Niger Delta. It also demonstrates the leadership role played by Shell Companies in Nigeria to grow the domestic gas market in Rivers State.''
Report
The company added in its latest report that: ''SPDC continues to make progress in close collaboration with its joint venture partners and the Federal Government of Nigeria towards the objective of ending the continuous flaring of associated gas. Associated gas refers to natural gas found in association with oil within a reservoir.
''Since 2000, all new SPDC JV facilities have been designed to eliminate continuous flaring of associated gas. In parallel, a multi-year programme has been successfully implemented to install equipment for capturing associated gas from older facilities. As a result, flaring volume from SPDC JV facilities was reduced by 90% between 2002 and 2017 and flaring intensity (flare divided by total hydrocarbon produced – tCO2e/t) decreased by 78% over the same period. Divestments also resulted in a further reduction.
''However, flaring from SPDC JV's operations in 2017 increased by 61% compared to 2016 and flaring intensity also increased by 28% from the previous year. The increase in 2017 is partly attributed to the restart of certain SPDC JV facilities, e.g. Forcados export terminal that were offline for most of 2016.
''There are several SPDC JV facilities where flaring still takes place. Some only have non-routine operational flaring e.g. Soku, Bonny, Gbaran and Agbada because they have fully functional solutions to address routine flaring. Others have routine flaring and the SPDC JV has identified solutions by capturing the associated gas and commercialising it for the domestic market.''
Problems
The company disclosed that: ''Unlocking Nigeria's natural gas potential will require partnerships between the Nigerian government and oil companies that have the ability to innovate, capacity to deliver major projects, and willingness to take on long-term commitments.
''The SPDC JV's aspiration is to transform into a gas-oriented business designed to secure value across the entire gas value chain that creates a sustained positive socio-economic impact for Nigeria. It aims to grow its gas production capacity to meet domestic gas supply obligations as well as commitments to supply gas to the NLNG plant for export.
''The SPDC JV therefore views natural gas as an opportunity with growth potential, given the right investment conditions. However, there are several challenges that need to be overcome in order to successfully develop growth projects for the domestic gas market.
''A new funding regime for joint venture oil and gas operations in Nigeria has been operationalised, which is expected to resolve Nigeria National Petroleum Corporation's funding constraints in the SPDC JV. This would increase gas production by optimising existing operations as well as accelerating the completion of new gas development projects.  A second challenge is to clear the backlog of unpaid deliveries of both power and gas to customers. Without the repayment of outstanding gas and power invoice arrears, and securitization of current and future revenues, operators are reluctant to commit additional investments to grow domestic gas supply.
''Another challenge deals with the need to attract investment to further develop infrastructure along the gas value chain, for example, to create a more robust pipeline network to improve reliability and security of supply.''
Power sector
The managing director, Shell Nigeria Gas, SNG, Mr. Ed Ubong added that the company was committed to delivering commercial gas to operators in the power sector.
He said: ''The SPDC JV continues to boost the production of natural gas for domestic power generation and export while SNEPCo's growth ambitions in deep water includes expansion of natural gas production.'